TV Bits: 'Parks & Recreation', 'Justified', 'Bates Motel', 'Once Upon A Time', Donald Glover, Bret Easton Ellis, Michael Bay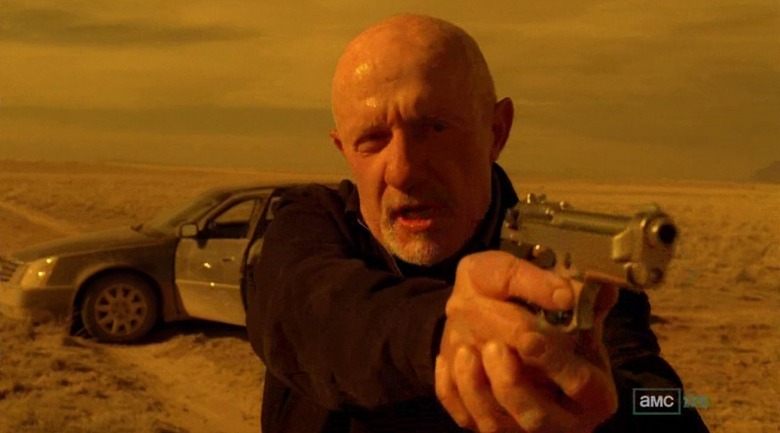 Everyone's got new shows brewing, from Community favorite Donald Glover to Fifty Shades fan Bret Easton Ellis. After the jump:
Donald Glover could get his own show at NBC
Bret Easton Ellis writes teen monsters for The CW
A&E orders an occult drama from Michael Bay
Jonathan Mostow will direct TNT's The Last Ship
Breaking Bad's Mike is Ben's dad on Parks & Rec
Read descriptions for Justified's new scoundrels
A&E reveals the first teaser art for Bates Motel
Once Upon a Time warns, "MAGIC IS COMING"
Before you start freaking out about what this means for Community's fate, keep in mind that the new show is "in second position" after Community. Glover's series would only move forward if Community were to end. And if if it comes to that, wouldn't you just be comforted by the idea that dear sweet Troy needn't leave your DVR forever? [TV Guide via Vulture]
That American Psycho writer Bret Easton Ellis is working on yet another project about rich, attractive, and deeply troubled young people isn't really a surprise. Unlike his earlier works, however, Copeland Prep will be a TV drama. And the characters won't be metaphorical monsters, but literal ones.
The CW has just given a script order to the show, which comes from Gossip Girl creators Josh Schwartz and Stephanie Savage. (The network is also home to four other series by Schwartz — Gossip Girl, Hart of Dixie, Cult, and The Carrie Diaries.) Copeland Prep takes place at an exclusive secondary school so competitive that its students are literally becoming monsters. Ellis will write the script and executive produce, while Twilight director Catherine Hardwicke will serve as executive consultant. [THR]
Despite the "bigger is better" approach on display in movies like Transformers, Michael Bay apparently has no problem scaling down for the small screen. The filmmaker already has two TV shows in the works at Starz and TNT, and has now received a cast-contingent pilot order from A&E for the tentatively titled Occult. James Wong (American Horror Story: Asylum) set to write the script.
Occult will follow an FBI agent who's suffered a breakdown while investigating his wife's disappearance. Having taken some time off to recover, he returns to duty with a new partner as part of a new occult task force. Naturally, his colleague as her own thorny past to deal with — including a background in the occult. [The Wrap]
Meanwhile, Bay's TNT project The Last Ship has found a director in Jonathan Mostow. The feature helmer's previous credits include Terminator 3: Rise of the Machines and U-571. Set in a grim future where a massive catastrophe has wiped out most of the earth's population, The Last Ship follows the crew of a naval destroyer as they come to grips with the new reality. The story is adapted from a popular book of the same title by William Brinkley. [Deadline]
As Ron Swanson tries his best to woo Xena, Warrior Princess, Ben Wyatt will be dealing with an even more intimidating figure on the Season 5 of Parks & Recreation: Mike Ehrmentraut. Jonathan Banks has signed on to appear as Adam Scott's father Steve in the sixth episode of the season, titled "Ben's Parents."
While Banks isn't technically reprising his Breaking Bad role, Parks showrunner Mike Schur says Steve won't be all that different. "We were working the character description of Ben's dad, and I said aloud, 'He should act like Mike Ehrmentraut,'" Schur told HitFix. "So somebody said, 'Well, why can't we just get Jonathan Banks?'"
On Breaking Bad, Mike always seemed too busy cleaning up after Gus and Walt to look for love. In contrast, Parks will have him romantically linked with not one but two women. The show also recently cast Glenne Headly (ER) to play Julia, Ben's mom and Steve's estranged wife. Generally described as "a warming and charming woman who appreciates art and literature," Julia nevertheless turns against Leslie when Steve shows up with a much younger girlfriend. [Screen Crush, Vulture]
As Justified's fourth season approaches ever so slowly, the FX drama's writers and producers are preparing a whole new crop of foes for Raylan Givens and the Harlan police department to contend with. According to TV Line:
The FX western is recruiting a new batch of freaks for Season 4, and they include a rule-bending military police sergeant who shares a past with Boyd, a fugitive family man who teams up with a pair of drug addicts, a local Constable who went to high school with Raylan, and a charismatic young preacher who starts cutting into Boyd's profits.
But which one will take over as the season's man villain? We'll find out when Justified returns in January. [via Screen Crush]
A&E has unveiled the first bit of teaser art for Bates Motel, its upcoming Psycho prequel. I don't think there's a whole lot to read into here, but it's a sharp-looking poster.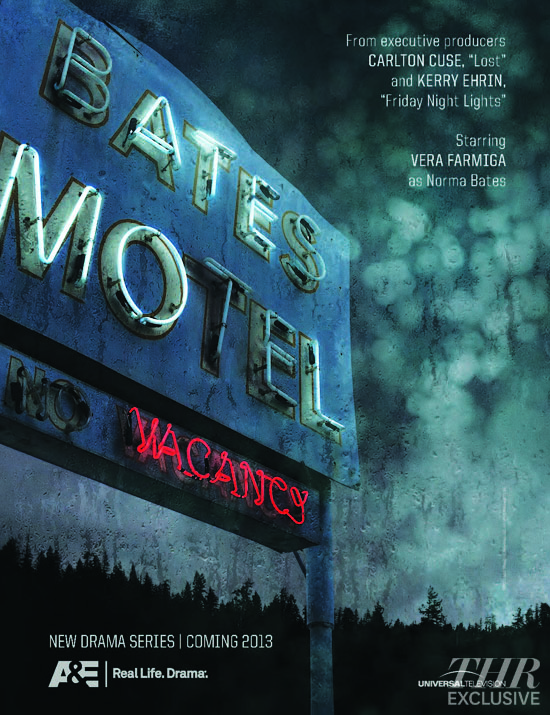 "Bates Motel" gives viewers an intimate understanding of how Norman Bates' psyche developed from his childhood through his teen years. Fans will have access to the dark, twisted backstory and learn first hand how his mother, Norma, and her love damaged Norman, helped forge the most well-known serial killing motel owner in history.
Described as Twin Peaks meets Smallville, Bates Motel is gearing up for a 2013 debut. [THR via Coming Soon]
ABC's new poster for Once Upon a Time shows Jennifer Morrison brandishing a sword against what appears to be a purple smoke monster, under an ominous Game of Throne-esque warning that "Magic is coming."