Andrew Dominik's 'Killing Them Softly' Pushed Back To Late November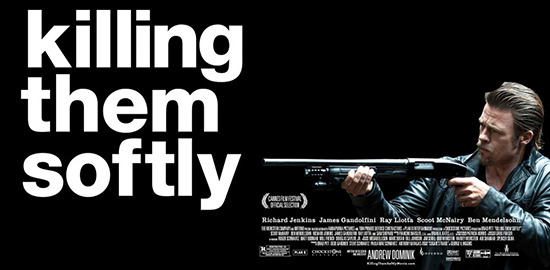 Briefly: With Lawless not likely to do much for The Weinstein Company in the Oscar race, the company is relying upon Paul Thomas Anderson's The Master and Andrew Dominik's Killing Them Softly to do much of the heavy listing when it comes to earning awards and accolades. And while The Master starts to hit theaters this weekend, Dominik's movie was set for a late October debut. No longer, as TWC has moved the film to November 19. 
The film features Brad Pitt as a mob enforcer with a unique approach to his work; he's on the trail of Scoot McNairy and Ben Mendelsohn, who robbed a high-stakes poker game. Taking the movie out of October means it doesn't have to open against Paranormal Activity 4 and Alex Cross, and putting it into the November slot means the only competition is the Joh Cusack/Nic Cage serial killer movie Frozen Ground.
Deadline spoke to Harvey Weinstein, who said, "In this industry it is a very rare event to look at a weekend where your movie could open as the only wide release picture. November 30th will allow us to bring Killing Them Softly to a wide audience without competition. Additionally, the critical response to the movie has been very favorable especially on the amazing performances and November 30th positions us better in the Awards season calendar."Watch the trailer for the film here.