'The Oranges' Red-Band Trailer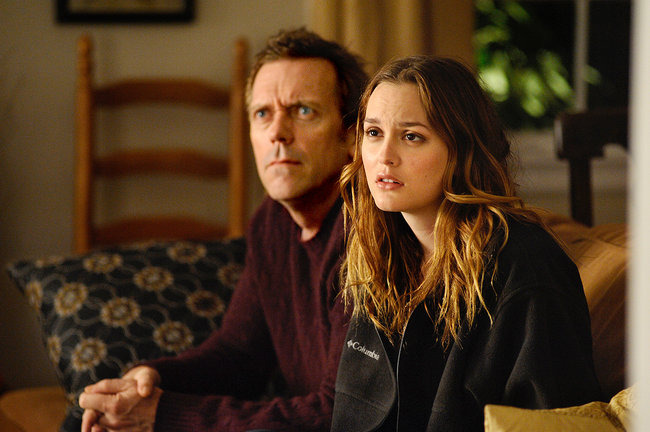 Here's the new red band trailer for Julian Farino's The Oranges, an all-audiences taste of which we saw not long ago. Hugh Laurie was going to play the bad guy in Jose Padilha's RoboCop, but even after dropping out of that he'll probably be good at pissing someone off when his character in The Oranges as he starts dating the much younger daughter (Leighton Meester) of his best friend.
Actually, hey, this is 2012 and we're all a lot more progressive now, so does this have to be a big deal? It probably does, at least to the characters in the film. The previous trailer showed the general scenario that comes together when Laurie and Meester's characters, er, come together. This one shows just how angry some of them are. Take Allison Janney, who has some unkind things to say about her daughter's new boyfriend, and Catherine Keener, playing Laurie's wife, who isn't quick to accept her husband's new interest, even if it might improve her life, too.
All told it's not the most intense red-band trailer we've ever seen. And there's the sense that things all work out just fine in the end, which undermines the initial "WTF" factor of the story. But if you like the cast, it might not matter. Alia Shawkat still looks kinda like the winner here, as she gets to play on the fringes of the story.
Yahoo has the trailer. Julian Farino (Entourage, How to Make it in America) directed. Ian Helfer & Jay Reiss (Wainy Days, Uber Alice) wrote the script, which hit the Black List a couple years back. The Oranges will get a limited theatrical release startingOctober 5.
David and Paige Walling (Hugh Laurie, Catherine Keener) and Terry and Cathy Ostroff (Oliver Platt, Allison Janney) are best friends and neighbors living on Orange Drive in suburban New Jersey.  Their comfortable existence goes awry when prodigal daughter Nina Ostroff (Leighton Meester), newly broken up with her fiancé Ethan (Sam Rosen), returns home for Thanksgiving after a five-year absence.  Rather than developing an interest in the successful son of her neighbors, Toby Walling (Adam Brody), which would please both families, it's her parents' best friend David who captures Nina's attention.
When the connection between Nina and David becomes undeniable, everyone's lives are thrown into upheaval, particularly Vanessa Walling's (Alia Shawkat), Nina's childhood best friend.  It's not long before the ramifications of the affair begin to work on all of the family members in unexpected and hilarious ways, leading everyone to reawaken to their lives, reassess what it means to be happy, and realize that sometimes what looks like a disaster turns out to be the thing we need.