'Independence Day' Sequels Get Rumored Titles, 3D Conversions, Different Tones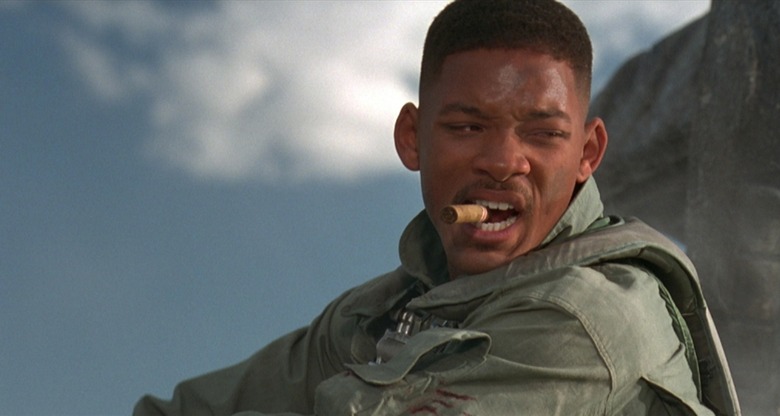 With director Roland Emmerich currently filming White House Down, there's not a lot of working going on with the sequels to Independence Day. Producer Dean Devlin has gone on record saying he and Emmerich have cracked the idea for the films and continue to work on them, but it's not a daily thing. No matter; that doesn't stop tiny bits of news from leaking about the still hypothetical back-to-back sequels to the hit 1996 film, which gets a 3D re-release next year.
The pair are still referring to the films as ID Forever Part One and ID Forever Part Two and, in a new interview, Emmerich they'll likely be shot in 2D and up-converted to 3D. Devlin also said they're exploring a "lovable" tone as that was one of the surprising things people took out of the original. Read more after the jump.
The information is from interviews with Film Smarts (translated from German) and Total Film, both via Bleeding Cool.
In the Film Smarts interview, Emmerich suggests the film is still a ways off with the primary hurdle getting all the actors back on board. He then says though he still has some issues with 3D, the studio would likely want it so he'd shoot in 2D and then convert it.
Talking to Total Film, Devlin said the following about the tone of the film's in relation to the original:
Roland and I sat down and watched the original. It's a different experience on television! The thing that really hit me about the movie is how much love there is in it: between the characters; that the filmmakers had making it; that the cast had for each other. As we're approaching a sequel we're focusing on that aspect of it. Because I think that was really the key as to why it worked for everyone. It was lovable.
Fans of the first film – myself included – love thinking about how these things will all come together (and if you didn't see me talk about the film with Len Wiseman, who worked on the movie, fast forward to 9:10 in this video, he has some good ideas) but we're still years and years away from production.