New Images: Kenneth Branagh In 'Jack Ryan,' Rosamund Pike In 'Jack Reacher,' Plus 'To The Wonder,' 'Broken City,' And More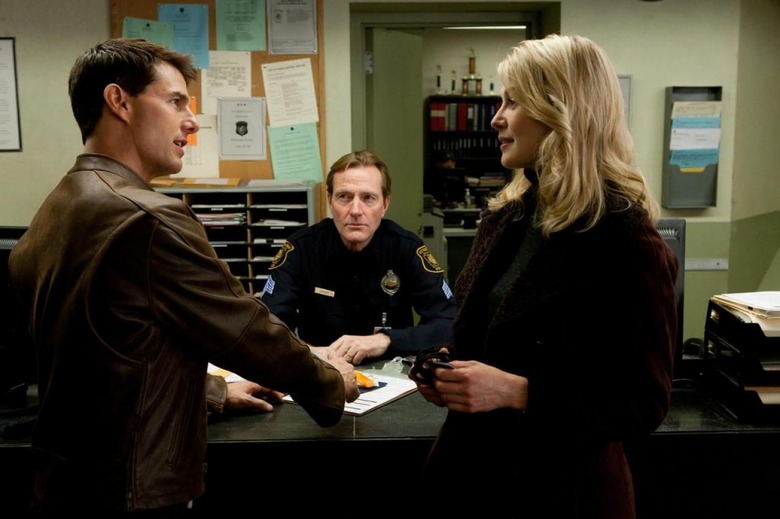 We've got a lot of new images today, and the first two are new looks at characters in Paramount's pair of upcoming Jack movies — Jack Ryan and Jack Reacher. (Which tough guy will blink and allow a title change first?) Both images show new looks at supporting characters, but in the case of Jack Ryan, the focus is also on the director, and in the case of Jack Reacher, there's a look at Reacher's ultimate creator, too.
Plus, there are shots from To the Wonder, Broken City, Grand Piano, and The American Scream, all after the break.
First in the gallery there is your first look at Kenneth Branagh in Jack Ryan. He's directing the film, but he also plays the villain, and presumably that's him in villain mode, rather than director. (But it's hard to tell the difference, really.)
Second in the gallery (and also seen in the header) is a new image from Jack Reacher. We've seen a trailer and some other pics that debut Tom Cruise as the title hero, in a story based on the novel One Shot. This pic debuts Rosamund Pike, who plays the hotshot young lawyer who helps Reacher and a presumed sniper out of trouble. But there's another object of interest in the photo — the cop in the pic there is Lee Child, author of One Shot and over a dozen other Jack Reacher novels.
Jack Reacher opens on December 21, David Oyelowo, Richard Jenkins, Alexia Fast, Robert Duvall, and Werner Herzog are also in the film.
Six shots. Five dead. One heartland city thrown into a state of terror. But within hours the cops have it solved: a slam-dunk case. Except for one thing. The accused man says: You got the wrong guy. Then he says: Get Reacher for me. And sure enough, ex–military investigator Jack Reacher is coming. He knows this shooter—a trained military sniper who never should have missed a shot. Reacher is certain something is not right—and soon the slam-dunk case explodes. Now Reacher is teamed with a beautiful young defense lawyer, moving closer to the unseen enemy who is pulling the strings. Reacher knows that no two opponents are created equal. This one has come to the heartland from his own kind of hell. And Reacher knows that the only way to take him down is to match his ruthlessness and cunning—and then beat him shot for shot.
Terrence Malick's new film To the Wonder premiered recently on the festival circuit, and while Malick's films tend to be critical darlings, this one is generally being called his first genuine miss. Still it is difficult to not be interested in a new film from the director, at least a little bit, and so here's a new image showing Ben Affleck with Olga Kurylenko.
The latter plays the girl Ben Affleck's character meets and falls for, but whose relationship with Affleck is tested throughout the film, in part by his rekindling of friendship with an old friend (Rachel McAdams). Kurylenko's character is the primary narrator of the film, and as such the primary voice of the movie — moreso than other Malick films, this one seems relatively low on dialogue. There's no release date yet for To the Wonder, but hopefully we'll see a trailer soon.
After visiting Mont Saint-Michel — once known in France as the Wonder — at the height of their love, Marina (Olga Kurylenko) and Neil (Ben Affleck) come to Oklahoma, where problems soon arise. Marina makes the acquaintance of a priest and fellow exile (Javier Bardem), who is struggling with his vocation, while Neil renews his ties with a childhood friend, Jane (Rachel McAdams). Written and directed by Terrence Malick, TO THE WONDER is an exploration of love in its many forms.
Then there are three shots from Broken City, from Allen Hughes, with Russell Crowe, Mark Wahlberg, and Catherine Zeta-Jones. Wahlberg is a cop-turned private detective hired by the mayor (Crowe) who suspects his wife (Zeta-Jones) is cheating on him. That's just the tip of the iceberg, and Wahlberg's character finds himself drawn into a much more dangerous situation as a result of his investigation.
Broken City hits on January 18, 2013.Michael Stephenson, who directed Best Worst Movie, has a new doc premiering at Fantastic Fest this year. It is called The American Scream, and it looks into Fairhaven, MA, where at Halloween each year the town is transformed into a collection of incredible seasonal displays. Stephenson told STYD,
I grew up in a small town and every Halloween we had this one lady and she would transform it into a witch's house. So, when this idea came to me, I got really excited about it. It's such a great sandbox to play in in terms of making a documentary because – theatrically – it's creative. People do these amateur haunted houses because there's passion over profit and they enjoy it. Arguably, there are people to do it to the level of obsession and that just felt like a great place to find characters and have a lot of fun.
Three images from The American Scream are in the gallery above.
Finally, there's a shot of Elijah Wood playing a piano, in the thriller Grand Piano. Yep, a thriller. Here's the plot:
Forced into early retirement because of crippling stage fright, Wood is a piano virtuoso who returns to the stage where the recital turns deadly and he is forced to literally play for his life in the tense and twisted psychological thriller.
Eugenio Mira (Agnosia) directs, with John Cusack also appearing, and Adrian Guerra and Rodrigo Cortes (Buried) produce.