Theatrical Re-Releases: 'E.T.' Hits The Big Screen For One Night, And 'Twilight' Fans Get A Marathon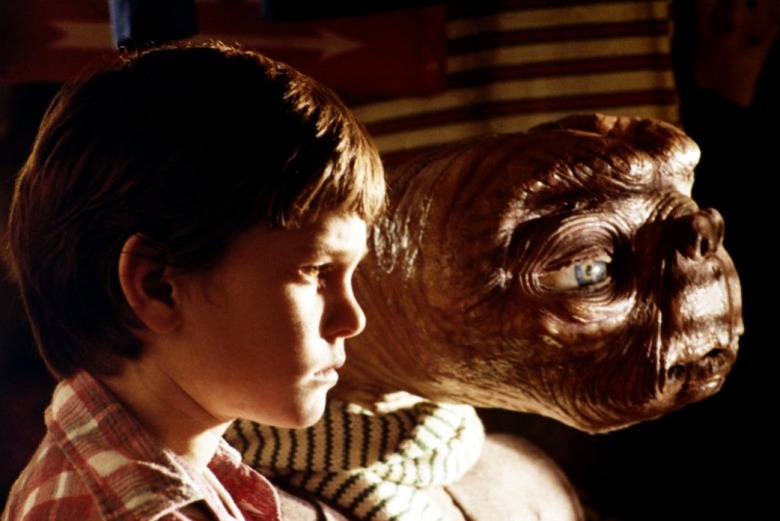 While VHS and DVD really hurt the theatrical re-release business for quite a while, in recent years there has been a resurgence of films going back to the big screen, if only for very limited runs.
The latest rereleases coming up this fall are a very brief — one night only! — booking for Steven Spielberg's classic E.T.: The Extra-Terrestrial, and the full Twilight Saga in advance of the opening of the final chapter in the series. Info on both follows.
First up is E.T., which Fathom Events, Turner Classic Movies, and Universal Pictures presents on October 3 at 7pm and (in some markets) 2pm matinee screenings.
This is effectively a promo for the 30th anniversary Blu-ray release, which hits a week later on October 9. The projection will be of the new digital remaster. There will be a taped introduction from Ben Mankiewicz of TCM, with an appearance from Drew Barrymore.
Tickets for E.T. are available now through Fathom Events.
As for The Twilight Saga, a press release announces that Summit will present The Twilight Saga Movie Marathon on November 15, 2012 at theaters across North America. This marathon will culminate with screenings of The Twilight Saga: Breaking Dawn – Part 2.
Here's the core of the press release:
In celebration of the films from THE TWILIGHT SAGA series from the last four years, Summit Entertainment, a LIONSGATE® company, will be working with its partners in theatrical exhibition to offer fans and moviegoers alike a chance to screen all of the films to date as part of a THE TWILIGHT SAGA movie-marathon.  The marathon will take place on November 15, 2012 at theaters across North America.  Additionally, to accommodate demand as well as making THE TWILIGHT SAGA: BREAKING DAWN – PART 2 available to moviegoers of many ages, the studio and its exhibition partners will release the newest film beginning with 10 p.m. screenings on November 15, 2012 at many local theaters.  THE TWILIGHT SAGA: BREAKING DAWN – PART 2 will then be released across North America and around the world via multiple show times on November 16, 2012.
Fans who purchase tickets for THE TWILIGHT SAGA marathon will be treated to seeing Bella, Edward, Jacob and the entire cast again on the big screen starting with the first film in the series culminating with the arrival of THE TWILIGHT SAGA: BREAKING DAWN – PART 2.  Marathon ticket holders will also see exclusive interstitial content played between the films and a special event-only lanyard will also be given to marathon attendees to house their ticket.
More information regarding locations, screening times, and purchasing tickets will be announced soon.