Dimension Buys 'Aftershock,' The Eli Roth Produced Earthquake Horror Film, And 'Clown,' Based On Viral Trailer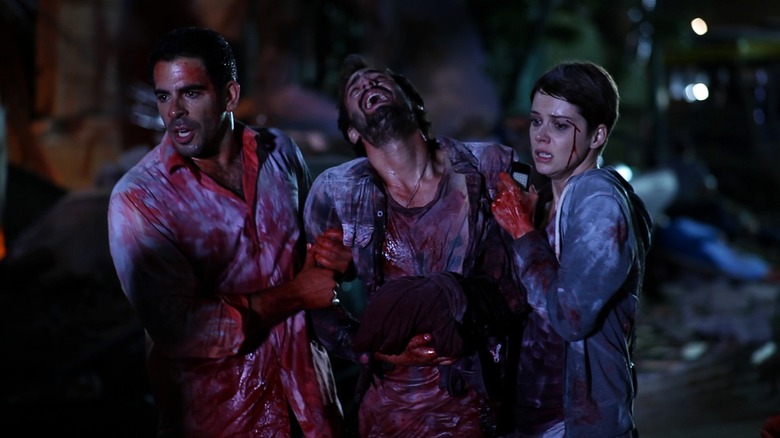 A movie that debuted right here on /Film just make it big. Aftershock, directed by Nicolás López, starring and produced by Eli Roth, was just acquired by Bob Weinstein's Dimension Films at the Toronto International Film Festival. Based on Lopez's experiences during the Chilean earthquake of 2010, the film centers on a group of friends who strive to survive after a massive earthquake hits Chile, freeing prisoners and unleashing other kinds of insanity.
Aftershock won't premiere at TIFF until Tuesday September 11. The Weinsteins were confident enough in it, Lopez and Roth to not only purchase the film, but also take the rights to another Roth-produced horror film called Clown, based on a fake movie trailer. Learn more about both after the jump.
Deadline broke the news of the deal, which they say was over $2 million for each movie.
Aftershock was co-written by López, Roth and Guillermo Amoedo. It stars Roth, Selina Gomez as well as Ariel Levy, Nicolás Martínez, Lorenza Izzo, Andrea Osvart and Natasha Yarovenko, most of whom are major stars in various parts of the world. Click here for the official TIFF description of Aftershock
Lopez himself is already responsible for two of Chile's highest grossing movies of the last few years (Fuck My Life and Fuck My Wedding; watch the trailers at those links) as well as a movie Quentin Tarantino called "the funniest movie of the year" in 2004, Promedio Rojo, and 2008 Fantastic Fest winner Santos. The trailers are linked but the latter two are also available in full on Netflix Instant.
As for Clown, it's based on a fake movie trailer by Jon Watts and Christopher D. Ford. Watts will direct the feature from a script he wrote with Ford. It centers on a man who puts on a clown suit for his kid's birthday, only to realize the suit is possessed. Here's the trailer. Ford wrote the film Robot & Frank, which is in theaters now, and the two guys are also writing the feature version of Thanksgiving with Roth and Jeff Rendell.
We'll get to see both these films in the coming year, most likely, and we'll definitely hear buzz on Aftershock next week. Congrats to all parties involved.