Richard Linklater's 'Before Midnight' Has Finished Shooting In Greece; See The First Image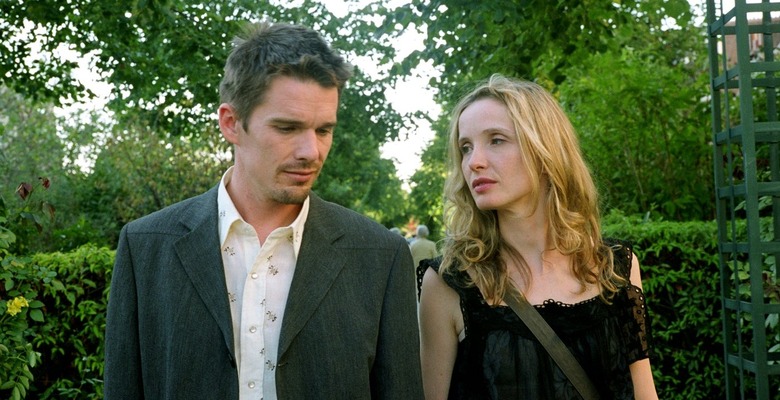 Ethan Hawke, Julie Delpy, and Richard Linklater have been terribly wishy-washy about the second Before Sunrise sequel over the past year. Hawke was the first to let slip that something was in the works, but the trio immediately backpedaled by insisting that nothing was set in stone.
Then we got word that shooting would start this summer, but none of the three said a peep as June and July went by. Last week, Greek papers noted that Hawke had been spotted actually shooting the film — now rumored to be titled Before Midnight — in Messinia, but Hawke quickly clarified that they were only at the writing stage.
Today we're getting yet another reversal, as it turns out Hawke's been somewhat less than forthcoming. In fact, a new report says that not only have cameras started rolling, Linklater's actually wrapped Before Midnight already. You can even see the first image after the jump.
Before Midnight is expected to go on sale at the Toronto Film Festival tomorrow, where it shouldn't have too much trouble finding a buyer. Its predecessor, 2004's Before Sunset, was a critical and commercial success, even earning a screenwriting Oscar nomination for Linklater, Delpy, and Hawke.
The trio got together once again to write the screenplay for Before Midnight, the plot details of which have not been revealed. "It's great to be back together again, this time in beautiful Greece to revisit the lives of Celine and Jesse nine years after Jesse was about to miss his flight," they said in a statement.
Hawke and Delpy have once again reprised their roles as the long-distance lovers, as you can see in the image below (via The Playlist). Delpy looks lovely as ever, but what the hell have they been up to that Jesse's apparently forgotten how to put on clothes like a grown man? Guess we'll have to wait til 2013 to find out.