Here's Leatherface In 'Texas Chainsaw 3D'
When we last saw Leatherface at the end of Tobe Hooper's The Texas Chain Saw Massacre, he was doing a dance of frustration, spinning like a dervish flailing his chainsaw, as the Final Girl Marilyn Burns escaped in the back of a stranger's pickup truck.
We've seen versions of Leatherface many times in the years since, but John Luessenhop's film Texas Chainsaw 3D purports to be a direct sequel to Hooper's film, picking up right after the end of the 1974 original. We saw a poster for the movie a couple days ago, and while we wait for the trailer there's now a still of Leatherface, showing the not-quite all there marauder trudging towards what might be a slaughterhouse. Check it out in full below.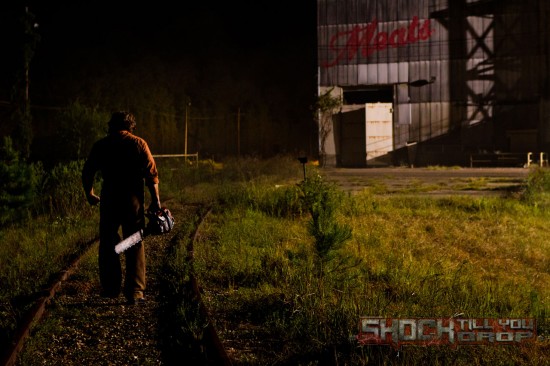 Texas Chainsaw 3D opens on January 4. Dan Yeager plays Leatherface, and Alexandra Daddario, Tania Raymonde, Sue Rock, Scott Eastwood, Bill Moseley, Gunnar Hansen, Trey Songz, Keram Malicki-Sanchez, Shaun Sipos, Thom Barry, Paul Rae and Richard Riehle all appear.
Lionsgate's TEXAS CHAINSAW 3D continues the legendary story of the homicidal Sawyer family, picking up where Tobe Hooper's 1974 horror classic left off in Newt, Texas, where for decades people went missing without a trace.  The townspeople long suspected the Sawyer family, owners of a local barbeque pit, were somehow responsible.  Their suspicions were finally confirmed one hot summer day when a young woman escaped the Sawyer house following the brutal murders of her four friends.  Word around the small town quickly spread, and a vigilante mob of enraged locals surrounded the Sawyer stronghold, burning it to the ground and killing every last member of the family – or so they thought.
Decades later and hundreds of miles away from the original massacre, a young woman named Heather learns that she has inherited a Texas estate from a grandmother she never knew she had.  After embarking on a road trip with friends to uncover her roots, she finds she is the sole owner of a lavish, isolated Victorian mansion. But her newfound wealth comes at a price as she stumbles upon a horror that awaits her in the mansion's dank cellars...
[STYD]