TV Bits: 'Arrested Development', 'Breaking Bad', 'Revolution', 'It's Always Sunny In Philadelphia', 'The League', 'American Horror Story: Asylum'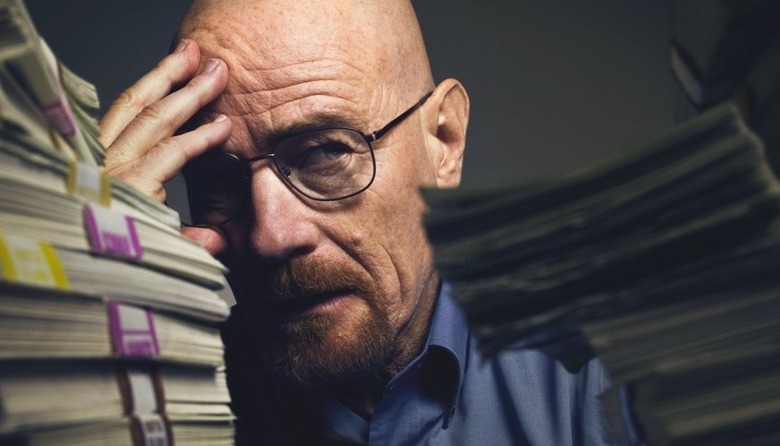 Probably the biggest news in today's TV Bits has to do with Mitch Hurwitz's comments on the upcoming season of Arrested Development, but we've also got stuff in here for FX subscribers, Heisenberg addicts, and J.J. Abrams lovers. After the jump:
Watch the pilot episode of NBC's dystopian sci-fi series Revolution
Showrunner Vince Gilligan talks about that Breaking Bad finale
Related: the Internet guesses how that giant pile of money is worth
FX announces premiere dates for The League and It's Always Sunny
The American Horror Story: Asylum cast convenes for a new poster
The [new] episodes are an outgrowth of the design of what we hope will be the movie. They precede it. They function as an act one of a movie that we all want to do, but haven't "sold" yet. The episodes take the audience through the experiences of the characters since the family "fell apart" and how they're brought together to deal with their new problems.
Hurwitz also confirmed that, as previously reported, Season 4 would be "almost an anthology version of the show with each episode focusing on a particular character and where they've been since the family fell apart six years ago." But "we'll see [the characters] in each other's shows," he added.
So how many individual-character-centric shows will there be, exactly? Hurwitz addressed recent rumblings of an increased episode count by revealing that "we theoretically have an opportunity to provide more material for [Netflix]," and that "[w]e're definitely shooting some special material just for them." As long as it's coming back, any number of new episodes is fine with me. Head to Vulture to read the longer version of the interview.
Sunday night's Breaking Bad mid-season finale didn't so much wrap things up as it did open up a giant new can of worms. (Emphasis on "can," if you like puns.) In a press conference call, show creator Vince Gilligan addressed some of the bigger questions including those about Walt's career, the status of his cancer, and the DEA's hunt for Heisenberg.
Naturally, Gilligan avoided giving away too many spoilers about the back half of the fifth and final season — a task made easier by the fact that he himself isn't totally sure where it's all going yet. "We're still working out the final eight episodes, and my writers and I still don't know how it's all going to quite lay out," he admitted. Read more at TV Line, but only if you're caught up. MAJOR spoilers for the last episode at that link.
One subject that wasn't brought up during the call (at least as far as I know) was the value of that big fat pile of money shown in the episode. Breaking Bad's characters themselves profess to have "no earthly idea" what the total is, though they guess it's "enough for ten lifetimes." They really should've just snapped a photo and asked the Internet — someone's already done the math. Click here to find out. (Beware still more spoilers.)
Looking for something to fill the lull before fall premiere season gets going? Hulu has the Jon Favreau-directed pilot of Revolution, the new J.J. Abrams show about a world without electricity. Created by Eric Kripke, the sci-fi series stars Billy Burke, Tracy Spiridakos, Anna Lise Phillips, Graham Rogers, J.D. Pardo, Zak Orth, Gus Fring Giancarlo Esposito, and Elizabeth Mitchell.
Revolution will debut on NBC Monday, September 17 at 10:00 PM. See our thoughts on an earlier version of the pilot, from Comic-Con, here. [via Vulture]
FX has just posted its fall premiere schedule for its six original series. While the dates for Sons of Anarchy and American Horror Story: Asylum are old news, the announcement also includes scheduling for its scripted comedies It's Always Sunny in Philadelphia and The League and its standup series Brand X With Russell Brand. Check out the info, via Deadline, below:
Sept. 11
10 PM ET/PT
Sons Of Anarchy
Sept. 14
9 PM ET/PT
The Ultimate Fighter Fridays
Oct. 11
10 PM ET/PT
It's Always Sunny In Philadelphia
10:30 PM ET/PT
The League
11 PM ET/PT
BrandX With Russell Brand
Oct. 17
10 PM ET/PT
American Horror Story: Asylum
Speaking of FX, American Horror Story: Asylum has just another new poster, this one showing off its photogenic but deranged cast. I'm positive that the layout offers some clues as to what's to come — but what it's actually saying, I have no idea. Chloë Sevigny sprawled out in black lingerie sure looks like a callback to last season's striking poster, though.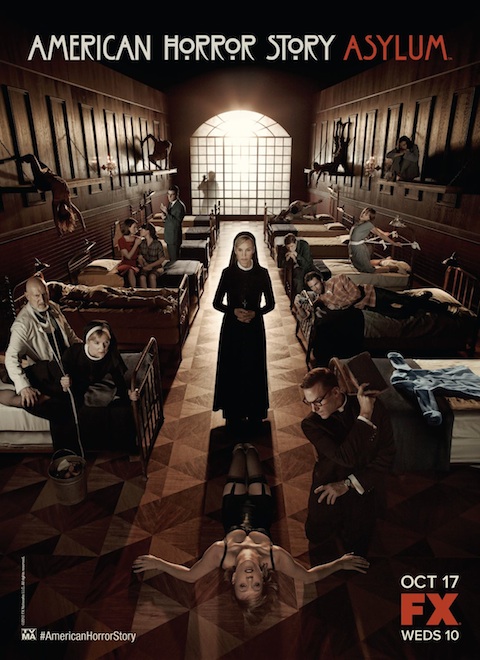 And naturally, there's a new teaser as well — a super artsy one that references imagery we've seen in previous promos.
American Horror Story: Asylum premieres... well, you already know if you've read this far. [Facebook]