Early Buzz: First Test Screening Review Of 'Skyfall'?; Venice Reactions To Terrence Malick's 'To The Wonder'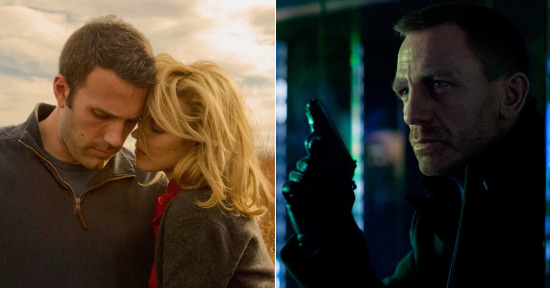 With Labor Day weekend marking the end of the summer movie season — actually, make that the traditional end of summer, period — it's time to look ahead at the fall and winter offerings on the horizon.
We've got early buzz on two very different entertainments coming up, Terrence Malick's To the Wonder and Sam Mendes' Skyfall. The former made its debut at Venice this past weekend to divided audiences, while the latter has apparently begun test screenings in London. Read more after the jump.
Keep in mind that we don't know much about lizze-sandy81, so it's tough to gauge the veracity of their account, especially as we haven't come across any other test screening responses at this point. The other usual caveats apply as well: We aren't familiar with lizze-sandy81's tastes, so there's no guarantee we (or you) would agree with their opinion even assuming all the facts are accurate; test screenings by definition show unfinished works so the version they saw won't necessarily be the one that hits theaters.
All that said, lizze-sandy81's glowing response seems like a promising sign. You can read the full-length post here, but be warned that spoilers abound, especially in the responses. To give you a more general, less revealing idea of their review, I've compiled some quotes below:
It's honestly the best looking Bond film ever.
The one thing that is evident though, is that Daniel Craig just owns James Bond.[...] He is way comfortable in this role, and it shows in this flawless performance. We actually get under the skin of the character more so than in Casino Royale.
Javier Bardem is just totally creepy as Silva, easily the best Bond villain since well... Goldfinger.
The last half an hour is by far the most emotionally draining and action packed aspect of the entire film. In fact, any Bond film.
The thing that struck me about this film is that it's laugh out loud funny at times. The dialogue is crisp and genuinely funny, but it still manages to keep in touch with Daniel Craigs incarnation of Bond. The best way I can describe it is that it's a black comedy drama film, with brilliant action and fantastic performances.
The film is nearly 3 hours long, and there's too much talking in some scenes.[...] The thing I didn't like though was Naomi Harris. Her acting is really bad in some scenes and her performance really does drag the film down.[...] I wasn't too keen on Berenice Marhole either. Her acting was fine, but there was something about her that was too Vesper.
lizze-sandy81 also had great things to say about Ralph Fiennes and Ben Whishaw's performances, as well as Mendes' direction ("for the first time since Casino Royale, the films action is doesn't feel pointless and moves the plot along smoothly"). Again, it's wisest to take this in with a big fat grain of salt for now, but it's heartening to see that Skyfall seems to be off to a good start.
Meanwhile, over in Venice, reactions to Malick's To the Wonder were decidedly more mixed. The Film Stage has a good roundup of media reactions, from 140-character tweets to full-length reviews. Critic Wire reports that there was some booing, but points out that "booing at film festivals often has more to do with political or personal agendas than the relative quality of the movie at hand."
Among the wide variety of responses, a few points kept cropping up. The biggest takeaway: To the Wonder has a great deal in common with Tree of Life, for better or for worse. Kinder critics called the new movie an "offshoot" of the 2011 film, while harsher ones dismiss To the Wonder as "Tree of Life leftovers."
As for star Ben Affleck's half-joking claim that To the Wonder "makes Tree of Life look like Transformers," the reviews don't make the difference between Malick's two films sound quite that dramatic — but yeah, if you thought Tree of Life was too slow and esoteric, To the Wonder likely won't be for you. As THR puts it, "To the Wonder will, as they used to say, separate the men from the boys when it comes to die-hard allegiance to all things Terrence Malick."
Unless, maybe, you're really into Olga Kurylenko. Although the romantic drama centers around Affleck's Neil, Malick's interest lies more with the women that interest him, especially Kurylenko. Many of the reactions noted just how much screen time is devoted to watching the former Bond girl twirl across the screen.
SF Chronicle's Mick LaSalle captured the overall ambivalence pretty well in his pithy dispatch: "The new Malick To the Wonder: great Ambition, insightful touching moments. But a cinematic experience you would not inflict on a friend."