'Rust And Bone' UK Trailer: Marion Cotillard And Matthias Schoenaerts Fall In Love For 'A Prophet' Director Jacques Audiard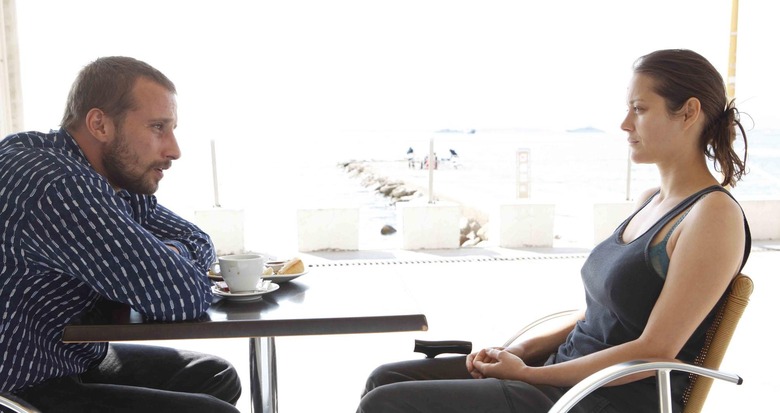 Three years after the excellent prison thriller A Prophet, director Jacques Audiard is back with the romantic drama Rust and Bone. Bullhead star Matthias Schoenaerts plays a young father named Ali who meets a beautiful orca whale trainer, Stephanie (Marion Cotillard). As tragedy (or ludicrous plot twists, if you're feeling less generous) strikes for both of them, the two imperfect beings fall in love. Watch the first UK trailer after the jump.
Rust and Bone premiered to strong reviews at Cannes, though there were a handful of naysayers. Chief among the criticisms was that the plot was too twisty and melodramatic (some spoilers ahead): Stephanie loses use of her legs after a horrific on-the-job accident, while Ali falls into bareknuckle street fighting. It also sounds fairly different from Audiard's last film, which may be why some reviewers were left disgruntled. Pajiba, for one, labeled Rust and Bone "a major misstep" for Audiard thanks to "incomplete attention to proper storytelling."
But most critics agreed that Cotillard and Schoenaerts' performances and Audiard's direction kept the film on track. The Guardian summed up the general response pretty well: "What could have been simply bizarre, sentimental or contrived here becomes an utterly absorbing love story." And a few even praised its potentially overwrought storyline — HitFix approvingly called Rust and Bone "the rare Croisette provocation that invites polarized responses by flirting with convention, even cliché, rather than transgression."
Between its buzz, its pedigree, and its premise, Rust and Bone looks likely to get some awards-season attention in a few months. The film opens November 16 in U.S. theaters.
It all begins in the North of France. Ali suddenly finds himself with a five-year-old child on his hands. Sam is his son, but he hardly knows him. Homeless, penniless and friendless, Ali takes refuge with his sister in Antibes where things improve immediately. She puts them up in her garage and takes the child under her wing. Ali first runs into Stephanie during a night club brawl. He is poor, she is beautiful and self-assured. She trains killer whales at Marineland. When a performance ends in tragedy, a call in the night again brings them together.