Sequel Bits: Jack Ryan, Iron Man 3, Star Trek 2, Kick-Ass 2, Avatar 4, Dawn Of The Planet Of The Apes, Dredd 3D
Casting, rumors, hopes, desires and much more are in this huge holiday edition of Sequel Bits. After the jump read about the following:
Producer Jon Landau clarifies the possibility of Avatar 4 and offers an update on 2 and 3.
See Chris Pine on the set of Jack Ryan with Kevin Costner and read some thoughts on the tone of Star Trek 2.
Is the Iron Patriot going to be in Iron Man 3 after all?
Also, Wang Xueqi joins the Shane Black directed sequel in an intriguing role.
Screenwriter Alex Garland laid out some thoughts for a possible Dredd 3D sequel.
Grown Ups 2 built a set for an outdoor, night time go-kart scene to film indoors and during the day.
Director Jeff Wadlow hints that Jim Carrey has, in fact, been cast in Kick-Ass 2.
Rick Jaffa, a writer/producer of Dawn of the Planet of the Apes, confirms a big franchise staple won't be in the sequel.
Jon Landau is out promoting the new Blu-ray for Titanic 3D and is getting grilled out the upcoming sequels to Avatar. Talking to Collider, he said work has begun and the scripts are almost there:
The scripts are pretty far along. We have a team of people already working on the film at Manhattan Beach Studios. We've been working with WETA Digital on technologies. You know, Titanic was supposed to be a summer movie and it was a Christmas movie. We're going to make the best possible version of these movies, and they will come out when they are exactly that.
Landau also clarified some earlier statements that suggested Cameron might be making Avatar 4 after Avatar 2 and Avatar 3. He said that's not the case in an interview with Courier Post (via Coming Soon):
We [are] doing two back-to-back, but not a third.
Last week, Paramount revealed the first look at Chris Pine in Jack Ryan. They then released a second still, featuring Kevin Costner, which you can see here: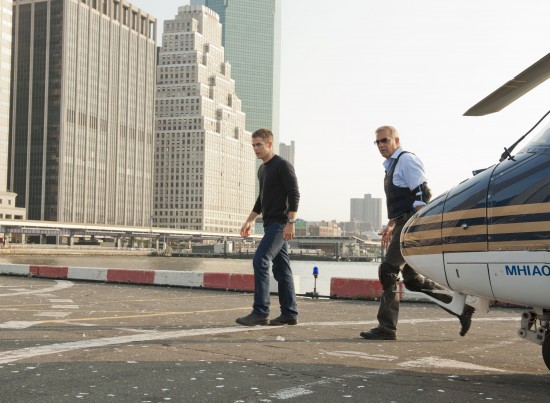 Pine also spoke to Total Film about the tone of Star Trek 2, which is currently in post-production:
There's comedy, which I think J.J. does a great job of, but, like the first one, there's some serious issues being dealt with. And I'd say the threat is even greater in this one....The force [the Enterprise crew] are met with is much more frightening. It's relentlessly action-packed and in terms of character development it goes places you'd never expect. The arc is huge for all the characters. It's a really big story – I can't hype it enough!
Earlier this summer, there was some debate over these Iron Man 3 set photos that showed a new, red white and blue suit we thought to be the Iron Patriot. Then it seemed that maybe it was just a similar suit and not the character persay. Bleeding Cool now found a bunch of trademark filings for the phrase, hinting that it'll be used after all. But wouldn't that have happened before filming began?
Speaking of Iron Man 3, an actor named Wang Xueqi has just been cast as Chen Lu, an employee of the Mandarin who, in the comics, becomes Radioactive Man. Thanks to Comic Book via Comic Book Movie. Do you think that'll happen in the film?
Alex Garland, writer of the upcoming Dredd 3D, answered a bunch of fan questions ing the 2000 AD Forums (via Bleeding Cool) and one of which was his thoughts on a possible Dredd 3D sequel.
If I was involved in a second movie, it would be about origins and subversion, and Chopper would feature. In fact, I think Chopper would start and end the story. Apart from him, my rough plan involves Fargo, Giant, Angel Gang, and a version of Satanus. For a trilogy, add Cal and the Dark Judges. And Anderson would be in all three. But... just to be clear, this is hugely speculative and also unlikely, for any number of reasons... There are some variables which would rule me out [of any sequel] immediately.
He also said he thinks the proper way to continue the franchise is on TV. Of course, this is all just his opinion and nothing is set in stone, at least until Dredd 3D opens September 21.
Variety has an interesting story of how the crew of Grown Ups 2, directed by Dennis Dugan and starring Adam Sandler, were met with a dilemma. The script calls for a night time scene racing go-karts with kids. However, kids need to work during the day. So they built a unique set indoors during the day to double for outside at night.
Kick-Ass 2 starts shooting this week and casting has been happening almost daily. One of the most intriguing rumors was that Jim Carrey would be playing the part of The Colonel. A later report suggested that wasn't happening but now director Jeff Wadlow took to Twitter to tease that the Ace Ventura star would indeed be appearing in the June 28, 2013 release. Thanks to Cinemablend for the find.
6 days till we start shooting... and we officially have our Colonel. Alrighty f'n then! @chloegmoretz @mintzplasse @donald_faison #kickass2
— Jeff Wadlow (@JeffWadlow) September 1, 2012
Finally, Rick Jaffa – one of the writers and producers of Rise of the Planet of the Apes as well as the upcoming Dawn of the Planet of the Apes, confirmed to Total Film (via Comic Book Movie) that time travel – one of the major plot points of the original series – won't be appearing in the sequel:
I don't foresee that. But it's interesting you should ask that, because it's the one big element that we made a conscious decision not to explore in the first one, and we were worried that there might be some backlash in the science fiction community because of it. When the story first came together we were very, very excited, and yet before we pitched it, I thought, 'The one thing missing though is time travel. But it's not necessary for this particular telling'. And I don't really foresee it, to tell you the truth.