Terrence Malick's 'To The Wonder' Gets A Detailed Plot Synopsis, Soundtrack Listing And Much More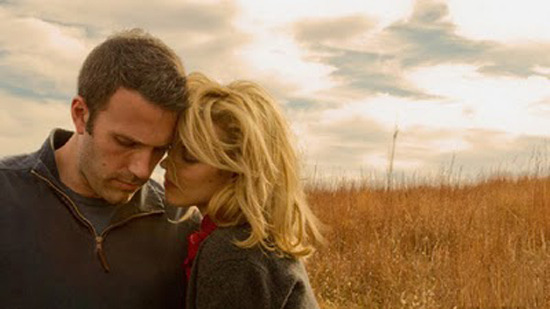 An almost ridiculous amount of information about Terrence Malick's latest film, To The Wonder, has made its way online and if it was for almost any other film, I'd advise you to look away. Why would you want to spoil yourself? But this is Terrence Malick, and even if you know the entire plot, musical accompaniment and more about one of his films, odds are nothing can come close to ruining the surprises he has in store once you sit down in the theater.
To The Wonder will have it's world premiere this weekend at the Venice Film Festival and stars Ben Affleck, Rachel McAdams, Olga Kurylenko, and Javier Bardem. After the jump, read a detailed plot description, a reason why that might not be important at all, the soundtrack listing and much more. Seriously, it's an embarassment of Terrence Malick riches.
Right at the top, a big thanks to The Film Stage for all of this. Their article has much more information than I'm going to provide here, so definitely head there and check it out.
To me, the most important thing to remember before reading the plot of To The Wonder are two Ben Affleck quotes about the film. First up, there's this from the press release:
The film feels to me like more a memory of a life than a literal story in real time of someone's life, the way movies more commonly are. This pastiche of impressionistic moments, skipping across the character's life and moving in a nonlinear way, mirror, in my mind, the way one remembers one's life. It's a little hypnotic and you're a little bit in a daze — it's more fluid than real life is.
Then, he said the following while in Telluride promotion Argo. He said To The Wonder:
...makes 'Tree of Life' look like 'Transformers.'
So you'd assume it's going to get a little bit out there, which is odd when you read what it's about. It sounds almost normal.
TO THE WONDER, written and directed by Terrence Malick, is a romantic drama centered on Neil, a man who is torn between two loves: Marina, the European woman who came to United States to be with him, and Jane, the old flame he reconnects with from his hometown. In TO THE WONDER, Malick explores how love and its many phases and seasons – passion, sympathy, obligation, sorrow, indecision – can transform, destroy, and reinvent lives.
As TO THE WONDER opens, Neil and Marina are together on the French island of Mont St. Michel – known in France as The Wonder of the Western World (Merveille de l'Occident) – and invigorated by feelings of being newly in love. Neil, an aspiring writer, has left the United States in search of a better life, leaving behind a string of unhappy affairs. Looking into Marina's eyes as the Abbey looms in the distance, Neil is certain he has finally found the one woman he can love with commitment. He makes a vow to be true to this woman alone.
Marina, quiet and beautiful, with flashes of a mischievous humor, is divorced and the mother of a 10-year-old daughter, Tatiana. At 16, Marina left the Ukraine for Paris without a cent to her name. There, she married a Frenchman who abandoned her after just two years, leaving her alone with Tatiana in a studio apartment. Marina was forced to work a variety of temporary jobs to make her way. Having nearly given up hope, Marina is overcome with joy to be in love with Neil, her salvation from an unhappy future.
Two years later, Neil and Marina are living in a small town in Oklahoma, close to where Neil grew up. Neil, having given up his hopes of becoming a writer, has taken a job as an environmental inspector. Neil is happy with his work, but his love for Marina cools as she, for her part, is frustrated by the holding pattern she feels she is in with Neil. She fears her youth – and happiness – are slipping away. In spite of her anxieties about Neil, Marina initially feels at home in Oklahoma, embraced by the open space and sky, and soothed by the sounds that come from the wind harp that animates breezes into songs.
Seeking advice, Marina turns to another exile in the community, a Catholic priest named Quintana. We learn that Father Quintana has come to grapple with his own dilemmas, as he harbors doubts about his vocation. He no longer feels the ardor he knew in the first days of his faith, and wonders if he ever will again.
Professional life throws Neil into conflict as well, when he discovers that a smelting operation in town is polluting the soil and water and threatening the health of future generations. His concerns fail to persuade his neighbors, who depend on the smelter for their livelihoods. Under pressure to keep quiet, Neil must once again weigh the consequences of his actions.
Neil's doubts about Marina intensify. This, coupled with the fact that Marina's visa is soon to expire, leads her to return to France with her daughter. In her absence, Neil reconnects with Jane, an old friend. As the two of them fall deeply in love, Neil finds this new relationship far less complicated. Yet when word comes to him that Marina has fallen on hard times and her daughter has gone to live with her father and refuses to have anything more to do with her, he finds himself gripped by a sense of responsibility for her wellbeing, and arranges for her return to the United States.
Neil's entanglements with the two women in his life, and Father Quintana's struggle with his faith, force them both to consider different kinds of love. Should the commitment they each made be undertaken as a duty, sometimes full of effort? Or should we accept that love often changes, and doesn't always last? Can sorrow bind lovers more tightly than joy?
Lots of character and details, no?
Couple that with this largely classic soundtrack and it seems like you really can get a sense of what this movie will be. Notice the repetition of some songs, a song sung by Kurylenko a some other hints.
"Now Now" Written by Anne Clark Performed by St. Vincent
"Quadrospazzed" Written and Performed by Thee Oh Sees
"Fratres for Eight Cellos" Composed by Arvo Part Performed by Hungarian State Opera Orchestra Conducted by Tamas Benedek
"Harold in Italy, Op. 16, II." Composed by Hector Berlioz Performed by The San Diego Symphony Orchestra Conducted by Yoav Talmi
"Parsifal: Prelude to Act One" Composed by Richard Wagner Performed by Hanan Townshend
"Parsifal: Prelude to Act One" Composed by Richard Wagner Performed by The Mariinsky Orchestra Conducted by Valery Gergiev
"Die Jahreszeiten (The Seasons), H0B.XXI;3? Composed by Franz Joseph Haydn Performed by Mozarteum Orchestra Conducted by Ivor Bolton
"Ancient Airs and Dances, Suite No. 2, P.138? Composed by Ottorino Respighi Performed by Ireland National Symphony Orchestra Conducted by Rico Saccani
"June (Barcarolle)" Performed by Morton Gould at The Piano Arranged and Conducted by Morton Gould Composed by Piotr Ilich Tchaikovsky
"Ou Tu T'Endors" Written by Michael Tuccio Performed by Ishtar Alabina
"Symphony No. 9 in E Minor 'From the New World', Op. 95" Composed by Antonin Dvorak Performed by the Bartlesville High School Band
"Miss Mary Mack" Traditional
"Symphony No. 3, Op. 36, 'Symphony of Sorrowful Songs' – II. Lento Cantabile Semplice" Composed by Henryk Gorecki Performed by Polish National Radio Symphony Orchestra Conducted by Antoni Wit
"Symphony No. 3, Op. 36, 'Symphony of Sorrowful Songs' – III. Lento – Sostenuto Tranquillo Ma Cantabile" Composed by Henryk Gorecki Performed by Polish National Radio Symphony Orchestra Conducted by Antoni Wit
"Unto Us A Child Is Born; Alleluia (From Christmas Cantata No. 142)" Written by J.S. Bach Performed by Hanan Townshend
"Cantus Arcticus, Op. 61, 'Concerto for Birds and Orchestra': III. Joutsenet Muuttavat (Swans Migrating)" Composed by Einojuhani Rautavaara Performed by Royal Scottish National Orchestra
"Les Saisons (The Seasons), Op. 37b-June:Barcarolle" Composed by Pyotr Ilyich Tchaikovsky Performed by llona Pruyni
"Piano Concerto No. 2 in F Major, Op. 102" Composed by Dmitry Shostakovich Performed by New Zealand Symphony Orchestra Conducted by Christopher Lyndon-Gee
"The Isle of the Dead, Op. 29? Composed by Sergei Rachmaninov Performed by Royal Philharmonic Orchestra Conducted by Enrique Batiz
"Cosmic Beam Drone # 1" Written and Performed by Francesco Lupica
"Cosmic Beam Take 1" Written and Performed by Francesco Lupica and Lee Scott
"Cosmic Beam Take 5" Written and Performed by Francesco Lupica and Lee Scott
"Troops Advance" Written and Performed by Francesco Lupica and Lee Scott
"McKron Freaks" Written and Performed by Francesco Lupica and Lee Scott
"Prophecy of the Village Kremna" Written and Performed by Arsenije Jovanovic
"The Medusa Song" Written and Performed by Tatiana Chiline
"So Go" Written by Lauren Marie Mikus Performed by Lauren Marie Mikus and Hanan Townshend
"The Little Grey Wolf" Traditional Performed by Olga Kurylenko
"Bartlesville Fight Song" Performed by the Bartlesville High School Band
"Lahaul Valley" Composed and Performed by David Parsons
That's the entire musical selections from the movie, one would think.
But that's just the tip of the iceberg. Over on The Film Stage they have evidence that Ben Affleck might not even be in the movie that much, lots of info on the film's Southern setting and YouTube embeds of all the tracks above. Madness.