'This Must Be The Place' Trailer: Sad, Eyelinered Sean Penn Goes Nazi Hunting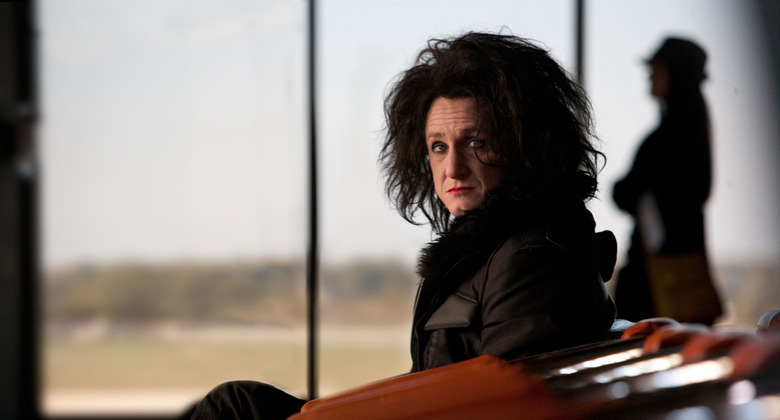 There's a lot going on in Paolo Sorrentino's This Must Be the Place: Sean Penn plays a washed-up former rock star named Cheyenne... who has serious issues with his dying father... who was on the hunt for a Nazi who once tortured him... so naturally Cheyenne takes it upon himself to pick up where his dad left off. Mixed reviews out of Cannes suggested that the odd combination doesn't quite gel, but Penn's usual dedication to the role could make the film worth watching just for his performance.
Another new trailer has dropped for the film, which shows off the stellar soundtrack by the Talking Heads and Iggy Pop. Watch it after the jump.
I really can't tell if this looks refreshingly offbeat, or cloyingly cute. Penn's decision to go low-key with the character was probably the right one, but he seems weirdly childlike for an ex-rocker, right down to his babyish voice. But credit where it's due to Sorrentino and co-writer Umberto Contarello – if nothing else, the premise is an unique one.
Also starring Frances McDormand and Judd Hirsch, This Must Be the Place hits theaters November 2.
Synopsis:
Cheyenne, a wealthy former rock star (Penn), now bored and jaded in his retirement embarks on a quest to find his father's persecutor, an ex-Nazi war criminal now hiding out in the U.S. Learning his father is close to death, he travels to New York in the hope of being reconciled with him during his final hours, only to arrive too late. Having been estranged for over 30 years, it is only now in death that he learns the true extent of his father's humiliation in Auschwitz at the hands of former SS Officer Aloise Muller – an event he is determined to avenge. So begins a life-altering journey across the heartland of America to track down and confront his father's nemesis.