39th Telluride Film Festival Announces 2012 Lineup; Features 'Rust & Bone,' 'Midnight's Children,' 'Hyde Park On Hudson'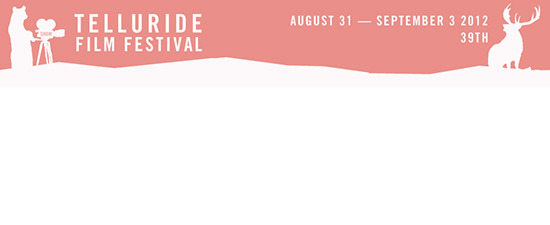 Peter Sciretta is traveling to Telluride, CO today for the 39th Telluride Film Festival, which kicks off the fall festival season. The interesting aspect of Telluride is that the film lineup is not announced in advance; instead, the opening night of the festival sees the release of the program. So today we've got the bulk of the 25 Narrative and Documentary Films in the main program, and that Marion Cotillard, Roger Corman and Mads Mikkelsen are being honored.
The 39th Telluride Film Festival's program will be posted in its entirety on Friday, August 31, 2012, and given that Baraka is noted as being screened in 70mm, we figure The Master might be added as a sneak screening. (Edit: and while Ben Affleck's Argo is meant to premiere at TIFF, there will be a 'sneak peek' screening of the film in Telluride.) In the meantime you can get info on the first announcement wave from the press release after the break.
Telluride, CO (August 30, 2012) – Telluride Film Festival, presented by the National Film Preserve, today announced its official program selections for the 39th Telluride Film Festival. TFF will screen nearly 100 feature films, short films and revivals representing over thirty countries, along with Tribute programs, Conversations, Panels and Education Programs.
Now in its 39th year, Telluride Film Festival opens Friday, August 31 and runs through Monday, September 3. The prestigious Telluride Film Festival is an annual gathering for film industry insiders, cinema enthusiasts, filmmakers and critics. TFF is considered a major launching ground for the fall season's most talked-about films.
Telluride Film Festival Co-Director Julie Huntsinger comments, "TFF prides itself on loyal and personal relationships that deepen and enrich over time, as evidenced by the commitment of the majority of our passholders, filmmakers, and business partners, who come back every year to stand shoulder-to-shoulder with us in supporting the best and the brightest talents of this year and future generations."
This spirit of sustainability is reflected in TFF's prestigious film programs that embrace classic treasures, world masters and the most buzzed-about movies, in the presence and celebration of iconic filmmakers and the freshest young talent; and in our portfolio of business partners from longstanding relationships with revered institutions and quality brands to alignment with exciting new companies and unique relationships with university and high school education providers.
39th Telluride Film Festival is proud to present the following new feature films to play in its main program, the '*Show*':
*THE ACT OF KILLING *(d. Joshua Oppenheimer, Denmark, 2012)
*AMOUR *(d. Michael Haneke, Austria, 2012)
*AT ANY PRICE *(d. Ramin Bahrani, U.S., 2012)
*THE ATTACK *(d. Ziad Doueiri, Lebanon-France, 2012)
*BARBARA *(d. Christian Petzold, Germany, 2012)
*THE CENTRAL PARK FIVE *(d. Ken Burns, Sarah Burns, David McMahon, U.S., 2012)
*EVERYDAY *(d. Michael Winterbottom, U.K., 2012)
*FRANCES HA *(d. Noah Baumbach, U.S., 2012)
*THE GATEKEEPERS *(d. Dror Moreh, Israel, 2012)
*GINGER AND ROSA *(d. Sally Potter, England, 2012)
*THE HUNT *(d. Thomas Vinterberg, Denmark, 2012)
*HYDE PARK ON HUDSON *(d. Roger Michell, U.S., 2012)
*THE ICEMAN *(d. Ariel Vromen, U.S., 2012)
*LOVE, MARILYN *(d. Liz Garbus, U.S., 2012)
*MIDNIGHT'S CHILDREN *(d. Deepa Mehta, Canada-Sri Lanka, 2012)
*NO *(Pablo Larraín, Chile, 2012)
*PARADISE: LOVE *(d. Ulrich Seidl, Austria, 2012)
*PIAZZA FONTANA *(d. Marco Tullio Giordana, Italy, 2012)
*A ROYAL AFFAIR *(d. Nikolaj Arcel, Denmark, 2012)
*RUST & BONE *(d. Jacques Audiard, France, 2012)
*THE SAPPHIRES *(d. Wayne Blair, Australia, 2012)
*STORIES WE TELL *(d. Sarah Polley, Canada, 2012)
*SUPERSTAR *(d. Xavier Giannoli, France, 2012)
*WADJDA *(d. Haifaa Al-Mansour, Saudi Arabia, 2012)
*WHAT IS THIS FILM CALLED LOVE? *(d. Mark Cousins, Ireland-Mexico, 2012).
* *
Additional *Sneak Previews *may play outside the main program and will be announced on the Telluride Film Festival website: www.telluridefilmfestival.org over the course of the four-day weekend.
"While screening hundreds of new movies for selection, we are looking for narrative and non-fiction films that offer festival goers new experiences, both in the subject matter and the way the filmmakers tell their stories," said Festival Co-Director Gary Meyer. "This year's program offers unique insights into the world today and past history. It is an especially strong year for films told by and about women."
The 2012 *Silver Medallion* *Awards*, given to recognize an artist's significant contribution to the world of cinema, go to director and producer *ROGER CORMAN *who will present *CORMAN'S WORLD: EXPLOITS OF A HOLLYWOOD REBEL* (U.S., 2011), *THE MASQUE OF THE RED DEATH *(U.S.-U.K., 1964) and (*THE INTRUDER *(U.S., 1961); Academy Award-winning actress *MARION COTILLARD *(LA VIE EN ROSE) who stars in TFF selection *RUST & BONE*; and
Danish actor *MADS MIKKELSEN *who stars in two TFF selections: *THE HUNT*and *A ROYAL AFFAIR*.
"At the core of each year's Festival are the Tributes that allow our audiences a chance to gain insight into the creative process of the filmmakers and actors being celebrated," said Co-Director Tom Luddy. "We are especially pleased with the balance this year, beginning with director/producer, Roger Corman, who has helped launch so many important careers. Then actress Marion Cotillard, whose early career in French films brought her to the attention of the world's filmmakers and now stars in both European and American movies. Finally there is Mads Mikkelsen, the Danish actor whose powerful performances have brought him much international attention and increasing audience awareness in America."
* *
Telluride Film Festival annually celebrates a hero of cinema who preserves, honors and presents great movies. This year's *Special Medallion *award goes to C. Chapin Cutler Jr. and Boston Light & Sound for a commitment to setting the highest standards of film presentations at film festivals and special events worldwide.
Previously announced Guest Director Geoff Dyer, who serves as a key collaborator in the Festival's program, presents the following six programs: *BARAKA *(d. Ron Fricke, U.S., 1992, new 70mm print); *BEAU TRAVAIL *(d. Clair Denis, France, 1999); *STALKER *(d. Andrei Tarkovsky, Russia, 1979); *TOGETHER *(d. Lukas Moodysson, Sweden, 2000); *UNRELATED *(d. Joanna Hogg, U.K., 2007); *WERNER x 2* includes two Werner Herzog films: *LESSONS OF DARKNESS *(France-U.K.-Germany, 1992) and* THE GREAT ECSTASY OF WOODCARVER STEINER *(Germany, 1974).
Additional film revivals include the "Pordenone Presents" selection of the rarely seen Raymond Griffiths comedy *HANDS UP! *(d. Clarence Badger, U.S.,
1926) with live music accompaniment by Donald Sosin; *I KNEW HER WELL *(d. Antonio Pietrangeli, Italy, 1965) selected and introduced by film director
Alexander Payne; *THE MARVELOUS LIFE OF JOAN OF ARC *(d. Marco de Gastyne, France, 1929) with The Mont Alto Motion Picture Orchestra; *RETOUR DU
FLAMME 2012*, Serge Bromberg's latest program including the newly restored Charlie Chaplin classic THE IMMIGRANT and HUNGRY HOBOS, the first screening of a lost Walt Disney Film since its 1928 premiere.
A Spotlight will shine on the work and career of director Jack Garfein including screenings of his two movies, *SOMETHING WILD *(U.S., 1961); and *THE STRANGE ONE *(U.S., 1957) plus a conversation led by film critic Kim Morgan.