Michael Douglas To Play Ronald Reagan In Indie 'Reykjavik'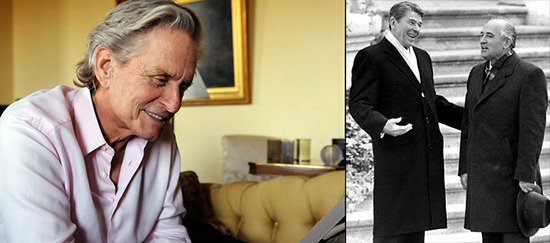 We've heard a lot lately about actors being courted to play US Presidents, but most are for one film, Lee Daniels' new movie The Butler. That one has Alan Rickman set to play Ronald Reagan, and Jane Fonda controversially set to be Nancy Reagan.
Over in a different corner of the indie landscape, Mike Newell has taken up the directorial reins of a film called Reykjavik, and has set Michael Douglas to play Reagan, the 40th President of the United States.
says that Newell has taken over the job that Ridley Scott was once considering, and that the film follows the 1986 summit between Reagan and USSR leader Mikhail Gorbachev, which took place in Reykjavik, Iceland. Gorbachev is not yet cast.
The trade says the film,
...takes place over a few days in 1986, when Reagan and Soviet leader Mikhail Gorbachev met for talks in the Icelandic capital to iron out peace against the backdrop of the Chernobyl nuclear disaster.
The $10m film will shoot in Germany in March, with Ridley Scott and David W. Zucker producing for Scott Free, and with a script from Kevin Hood. Newell also has his version of Great Expectations set to debut at TIFF in a few days, and Douglas has been shooting Steven Soderbergh's final film, Behind the Candelabra, in which he plays the entertainer Liberace.