TV Bits: 'Touch', 'The Walking Dead', 'Dexter', 'The New Normal', 'Fringe', 'American Horror Story', Charlie Sheen, Neil Marshall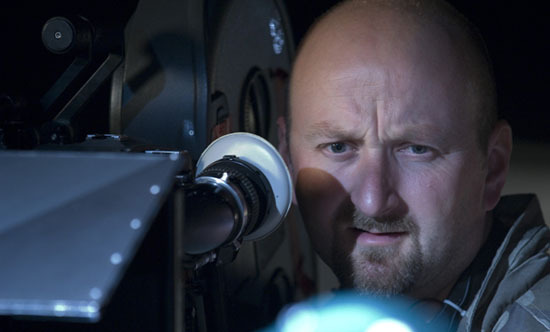 There may not be a whole lot to watch on TV right now, but there's plenty to watch in TV Bits. After the jump:
Neil Marshall will direct Michael Bay's pirate drama Black Sails
John Boyd and Dileep Rao join Kiefer Sutherland in Touch
The Walking Dead will kill off another series regular in Season 3
Charlie Sheen's Anger Management gets 90 more eps. Sigh
Watch Showtime's animated prequel mini-web-series for Dexter
NBC's The New Normal hits the web a couple weeks early
Fox unveils more teasers for Fringe's fifth and final season
American Horror Story spills plot details; watch more teasers
After raking in the praise for directing the Game of Thrones Season 2 climax "Blackwater," The Descent helmer Neil Marshall is headed back to television again for Starz's Black Sails. The Michael Bay-produced pirate drama unfolds 20 years before the events of Robert Louis Stevenson's Treasure Island, following the legendary Captain Flint and his crew. The eight-episode first season is currently in pre-production in South Africa, with a 2014 bow in mind. [Deadline]
Kiefer Sutherland will be getting a little help from one of his old 24 pals on the second season of Touch. The Fox drama has just cast John Boyd, who played Arlo Glass on Season 8 of 24, to play Kase. The character is described as a college pal of Calvin's (Lukas Haas) who now works as a "brilliant" math researcher.
Also boarding the cast for Season 2 will be Dileep Rao, best known for playing chemist Yusuf in Inception. Rao will play Vikash Nayer, a powerful shareholder at Aster Corp. Touch Season 2 starts Friday, October 26 at 8 PM. [THR]
The very premise of AMC's The Walking Dead means that its characters are all in constant danger of getting killed off, and it sounds like one particular individual's just about to come to the end of his or her line. TV Line's Michael Ausiello reveals that "a series regular will become zombie kibble during Season 3," though he wouldn't say when in the season the kill would take place. Think that means Frank Darabont's L.A. Noir is about to pick up another cast member?
Okay, Charlie Sheen, you win this round. FX has ordered another 90 episodes of his show Anger Management, bringing the total count up to 100. Let's just pause for a moment to think about all the shows we love that never even made it to 20. [Deadline]
Dexter won't return to Showtime for another month, but if you're not sure you can wait quite that long, Showtime has just the thing. The network has posted a new episode of Early Cuts: All in the Family, an animated web series exploring the serial killer's early days. Michael C. Hall narrates dialogue written by Dexter producer Scott Reynolds, over striking illustrations by comic book artist David Mack. Watch the first two episodes below:
A new episode will be revealed each week between now and the Dexter Season 7 premiere on September 30 at 9 PM, so check back for more next week at Showtime's official website. [via Cinema Blend]
Fox isn't the only network eager to give their most promising new comedies a head start with the fall TV season. NBC has just uploaded the full first episode of The New Normal, co-created by Ryan Murphy and Ali Adler. Justin Bartha (The Hangover) and Andrew Rannells (Book of Mormon) star as a gay couple trying to have a child through a surrogate.
Offering the show a bit early seems like an especially savvy move given that a Salt Lake City-based NBC affiliate recently drew headlines for refusing to air the "inappropriate" series. Now Utahns can watch the pilot regardless of KSL-TV's feelings about it, as can non-Utahns drawn in by the extra publicity the controversy has raised. The New Normal will make its on-air debut September 11 at 9:30 PM. [via Cinema Blend]
Fox has dropped two more Fringe trailers to go with that first picnic-centric one. Check them out:
I can't even begin to guess what Fringe has planned for its fifth and final season, especially considering how much this show loves throwing curveballs, but basically it looks like shit is about to get real. Tune in September 28 at 9 PM to see what happens. [via The Playlist]
After weeks of symbolism-laden teasers and posters, FX's American Horror Story is finally coughing up some real info about the new season. We've known for a while now that Jessica Lange would be front and center as a strict nun who runs an asylum for the criminally insane — but did you also know that the new arc would involve (spoiler alert!) "aliens, Nazis, and a serial killer named Bloody Face who wears a mask made out of his victims skin along with black nightie and opera length gloves"? Entertainment Weekly has more.
Not that they've given up on those oh-so-artsy teasers just yet. Watch two more below, via Facebook:
The second season, titled American Horror Story: Asylum, starts Wednesday, October 17 at 10 PM.