Rumors: 'Before Sunset' Follow-Up Titled 'Before Midnight', Currently Shooting In Greece?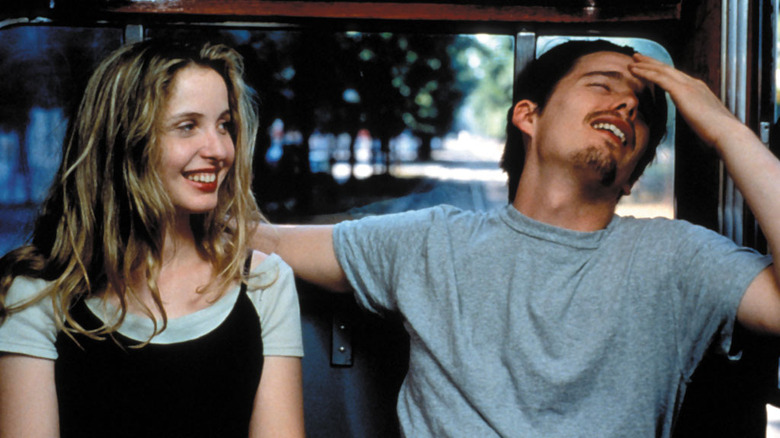 Last fall, Ethan Hawke spilled the beans on another potential Before Sunrise sequel, telling a French publication that he, co-star Julie Delpy, and director Richard Linklater had plans to get started on a script. But updates have been slow to trickle down since then. All three have been careful to emphasize that nothing's set in stone, and until Hawke let slip in June that the plan was to shoot this summer we had only the vaguest idea of when cameras might roll.
Now we're approaching the end of summer, and Hawke, Delpy, and Linklater are still keeping quiet about their plans. Newspapers in Greece, on the other hand, have not. According to local publications, Hawke is on set in the southwestern area of Pelponnese, shooting the film rumored to be titled Before Midnight. Mull over the details after the jump.
Although Hawke has been spotted and Linklater's company is said to be working there, there's no word yet on whether Delpy's been seen with them. That could mean Linklater and Hawke are working on another, unrelated project — the pair are also collaborating on the twelve-year epic Boyhood — or simply that Delpy's not needed for the scenes in Greece. It's also possible that Delpy has been in the area, and that the papers just haven't written about her yet.
It's also worth keeping in mind that all of this speculation is based on the assumption that these reports are accurate. That Hawke is in Greece doesn't seem to be in doubt, but the rest of the info should be taken with a grain of salt. But whatever Hawke's got cooking, let's hope he and his colleagues will drop a few more details about the Before Sunrise / Before Sunset follow-up soon.