Phil Lord And Chris Miller Add Elizabeth Banks And Morgan Freeman To 'Lego: The Piece Of Resistance'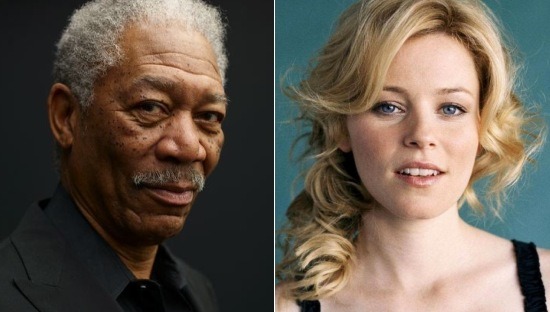 To follow up their live-action debut 21 Jump Street, filmmakers Phil Lord and Chris Miller are heading back into the world of animation with Warner Bros.' 3D tentpole Lego: The Piece of Resistance. And they're luring some very funny stars to go along with them.
Parks & Rec star Chris Pratt landed the lead role in June, with Will Arnett and possibly Channing Tatum up for the roles of Lego Batman and Lego Superman, respectively. Now Elizabeth Banks and Morgan Freeman have signed on to lend their voices to the animated 3D tentpole as well. More details after the jump.
Lord, Miller, Dan Hageman, and Kevin Hageman share credit for the screenplay, which centers around a "perfectly average" minifig named Emmet (Pratt). His epic adventure begins with a simple error: Mistaken for an extraordinarily powerful Master Builder, he gets recruited by a fellowship of strangers who are on a quest to prevent an evil Lego tyrant from gluing the world together.
Both Banks and Freeman have jumped between genres over the course of their careers, but this particular project definitely appears to be on the lighter side of the spectrum. Details on Banks and Freeman's roles are hard to come by right now, though Deadline's sources say Freeman will voice a character named Vitruvius. Lego: The Piece of Resistance is in production now, for a targeted release date of February 28, 2014.