Watch Rian Johnson's 'Looper' Remade As A Classic Video Game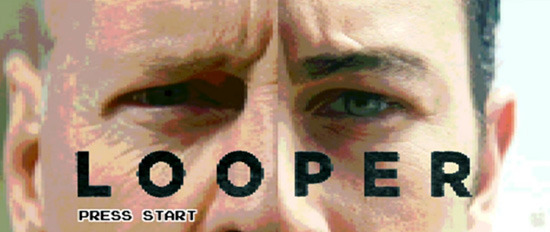 This is a pretty neat little thing. We've seen the trailer(s) for Rian Johnson's third film Looper, which features Bruce Willis as the older version of a futuristic hitman played by Joseph Gordon-Levitt. Time travel enables JGL's character to make a small fortune bumping off mob targets, but it also puts his older self into own crosshairs. Naturally, problems ensue.
Now we can experience the film as it might have been incarnated for the Super Nintendo game console. Looper the Movie the 8-Bit Game (which really looks like a 16-bit game) takes images and text from the last great trailer and reworks the story of time travel-enabled assassins to create some neat video game scenarios, complete with appropriate-sounding music. Check out the video below.
Editor Deepak Chetty gives some detail on the video's Vimeo page:
Made this while waiting for other renders to go through. Definitely my most anticipated movie of the fall/winter. Hopefully this is a start of a series of cinema games that never existed. Used: After Effects/Photoshop
Looper opens on September 28, after playing festivals such as TIFF and Fantastic Fest. It co-stars Emily Blunt, Paul Dano, Noah Segan, Piper Perabo, and Jeff Daniels.
In Looper, time travel will be invented – but it will be illegal and only available on the black market. When the mob wants to get rid of someone, they will send their target 30 years into the past, where a "looper" – a hired gun, like Joe (Gordon-Levitt) – is waiting to mop up. Joe is getting rich and life is good... until the day the mob decides to "close the loop," sending back Joe's future self (Willis) for assassination.
[via The Verge]