First Look: Steve Carell And Sam Rockwell In Nat Faxon And Jim Rash's 'The Way, Way Back'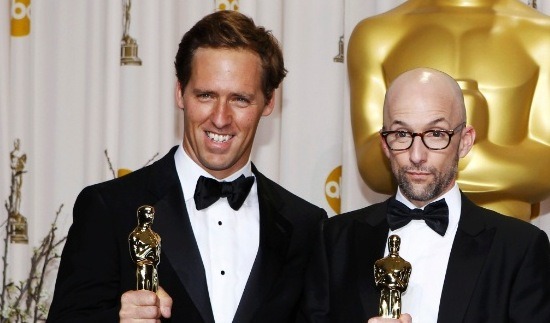 It can be pretty hard to take Jim Rash seriously when he's flirting with dalmatians as Dean Pelton on Community, but off-camera he's enjoying greater success than ever. Rash and Nat Faxon landed Oscars this past February for scripting Alexander Payne's The Descendants, and have spent most of the year since working on their directorial debut The Way, Way Back.
The project's history goes back several years. Rash and Faxon's script landed on the 2007 Black List and briefly had Shawn Levy (Real Steel) attached to helm. When Levy moved on, however, the pair decided to tackle the job themselves. Given their past work, it's no surprise that they were able to gather a talented and funny cast including Steve Carell, Sam Rockwell, Amanda Peet, Maya Rudolph, Toni Collette, Allison Janney, and Rob Corddry. With shooting just ended, we now have the first image from the coming-of-age comedy. Check it out after the jump.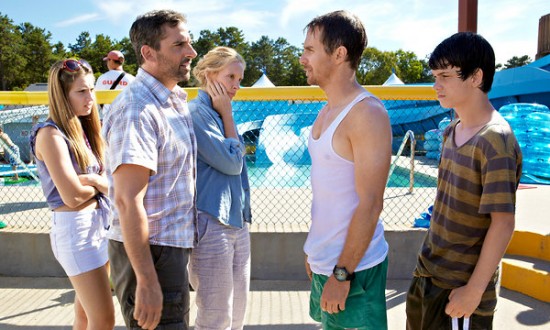 [via The Film Stage]
Liam James (The Killing) leads the cast, as a teenager trying to deal with a dysfunctional mother (Collette) and her boorish boyfriend (Carell). He finds a summer job at a local water park and strikes up an unlikely friendship with its manager, played by Rockwell. Janney has a supporting role as his neighbor, and Rudolph as his water park co-worker. The photo seems to show a confrontation with Zoe Levin, Carell, and Collette on one side and Rockwell and James on the other.
It's tough to get a grasp on the tone of the film from this still alone, but Faxon and Rash's work on The Descendants demonstrated a lot of heart, as well as a nice ability to blend drama and comedy. It's an approach that could work equally well for a coming-of-age tale like this one — I'm thinking a water-park version of Adventureland. The Way, Way Back hasn't set a release date yet, but I'm looking forward to seeing it make the rounds next year.