'Wolves,' From 'X-Men' Writer David Hayter, Roars Back To Life With Jason Momoa And Lucas Till Attached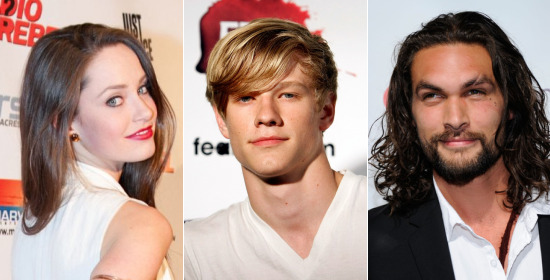 X-Men and Watchmen scribe (and Solid Snake voice actor) David Hayter has been trying to break into feature filmmaking for some time now, but luck hasn't really been on his side. He was working on a (pre-Iron Man 2) Black Widow project before Lionsgate hit the brakes on that, and tried for years to land the Watchmen helming gig before Zack Snyder ultimately got the job. When a werewolf thriller titled Wolves was announced back in 2010, it seemed he was finally getting ready to settle into the director's chair. Then not much was heard about the movie for a couple of years, and we more or less forgot about it.
Hayter's continued working on the project under the radar, though, and now the first pieces of casting are falling into place. Lucas Till (X-Men: First Class) nabbed the lead role a few weeks ago, and now he's being joined by Jason Momoa (a.k.a. Khal Drogo) and relative newcomer Merritt Patterson. Dave Elsey, who won an Oscar for his makeup work on The Wolfman, is on board to design the creatures. More details after the jump.
Momoa has built up a respectable small-screen career culminating in HBO's acclaimed Game of Thrones, but as Conan the Barbarian made little noise hasn't quite broken through on the big screen. He'll next appear in Walter Hill's Bullet to the Head, opposite Sylvester Stallone. Patterson's past credits include small roles on Kyle XY, Supernatural, and Percy Jackson & the Olympians: The Lightning Thief.
Elsey is a special effects and makeup vet whose resume includes Hellraiser, Mission: Impossible, Star Wars: Episode III – Revenge of the Sith, X-Men: First Class, and the upcoming Warm Bodies.
As of 2010, Hayter was describing Wolves as "Twilight with a bit more bite to it, and without abstinence." At the time, he indicated that the idea was to deconstruct the werewolf subgenre and turn it into a metaphor for sexual awakening "at the age when young men howl at the moon." That description probably sounded a tad fresher two years ago, before fairy tale retellings, dystopian YA adaptations, and biblical epics overtook the paranormal teen romance trend.
Still, there's always room for a good thriller. Hopefully Hayter can turn this tale into something more interesting than a male-centric Twilight ripoff. Wolves will shoot in Toronto this fall.
[Source: THR]