TV Bits: 'Bob's Burgers', 'Arrow', 'Sherlock', 'Star Wars', 'Falling Skies', 'The Farm'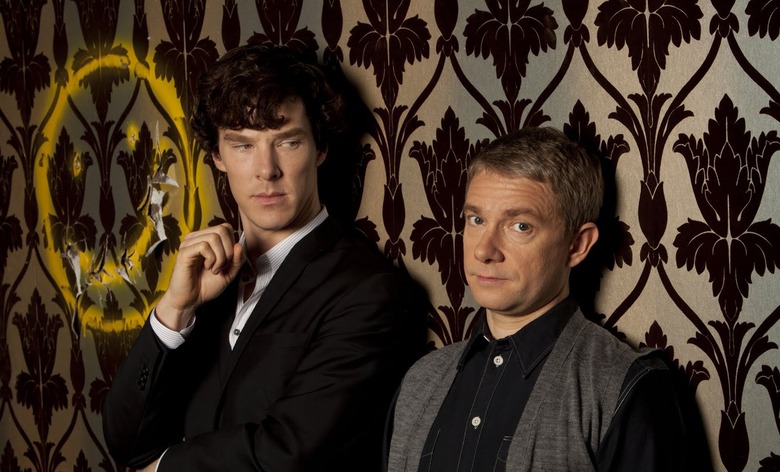 Who wants clues on Sherlock's upcoming third season? After the jump:
Sherlock creators tease three key words for Season 3
Fox orders six more scripts for Season 3 of Bob's Burgers
Which DC superheroes won't appear in The CW's Arrow?
Palpatine wants to be in the Star Wars live-action series
Robert Sean Leonard and Doug Jones join Falling Skies
Thomas Middleditch is Dwight Schrute's slacker brother
Earlier this week, the casting of Jessica De Gouw as The Huntress on Arrow got fans wondering what other familiar faces from the comics might pop up on the CW drama. While there's no doubt the show has a few more surprise cameos in store, exec producer Marc Guggenheim has revealed several high-profile figures that won't be making an appearance.
I think as far as those big names like Clark Kent and Bruce Wayne and Hal Jordan and Diana Prince, we're going to shy away from that, especially because we really want to establish Oliver Queen as our hero and our lead.... We're not looking to do Justice League as our TV show. We're doing a show called 'Arrow,' which is about Oliver Queen. Anyone who comes into his world will be a supporting character. Those characters aren't supporting characters. Those are leads. So we'll be focusing more on supporting cast in the DC universe. People who come in and complement Oliver, not overtake him.
Guggenheim also revealed that Arrow would be grounded in a relatively realistic universe, i.e., one without superpowers. "What it does is it creates an opportunity for us to reinvent some characters and present them in a non-powers, grounded way," he said, referencing Christopher Nolan's Dark Knight trilogy as a model. [Zap 2 It via Screen Crush]
With Season 3 not due 'til Fall 2013, Sherlock fans have a long wait ahead of them. But show creators Steven Moffat is getting the buzz started early, dropping hints for viewers to mull over. At the Edinburgh TV festival this week, Moffat revealed "Rat," "Wedding," and "Bow" as the three keywords for the upcoming season.
That suggests the show will be drawing upon the Arthur Conan Doyle stories "The Giant Rat of Sumatra," "The Noble Bachelor," and "His Last Bow" — which in turn hints that Season 3 may be the show's last. For comparison, last year's terms were "Woman," "Hound," and "Fall," leading to the episodes "A Scandal in Belgravia," "The Hounds of Baskerville," and "The Reichenbach Fall." [Deadline]
Lord knows when that long-gestating Star Wars live-action series will actually make it to the small screen. But whenever it does, Ian McDiarmind is eager to reprise his role as Palpatine. The Brit actor said as much during a Q&A session at the Star Wars Celebration VI convention:
It would be nice if one day they would be followed up...who knows? Who knows if Palpatine would be in it? It could be like A New Hope. There could be a terrific representative — and by god, Peter Cushing was a terrific actor — doing the emperor's bidding. If he happened to pop up in the script I would hate if it was to go live and someone else were to be in it
From the sound of it, he hasn't seriously discussed the idea with anyone directly involved with the project. Still, if the show has room for it, it'd be fun to see McDiarmind step into the part once again. [IGN via Comic Book Movie]
TNT's Falling Skies is snapping up several new stars as it heads into Season 3 production. Robert Sean Leonard, Gloria Reuben, and Doug Jones have all boarded the sci-fi drama. Both Leonard and Reuben have signed on for five-episode arcs. It's unclear how many episodes Jones will appear in.
Former House star Leonard will play a brilliant but strange scientist named Roger Kadar, who oversees Charleston's power grid. He earns the nickname "The Rat King" because he lives underground with several pet rats. Reuben, who co-starred with Falling Skies lead Noah Wyle on ER, will play Marina Perlata, who serves as an aide to Wyle's Tom Mason. Intelligent and savvy, her political know-how proves useful to Tom.
Jones, meanwhile, will portray the alien glimpsed at the end of Season 2. It is not known whether Jones will portray all the aliens of the species or just one, or what techniques (e.g., motion capture, prosthetics) will be used to transform the former Hellboy actor into an extraterrestrial creature. Falling Skies is due to return in summer 2013. [Screen Crush, Deadline]
Apparently, not all of the Schrutes share Dwight's "bears, beets, Battlestar Galactica" ethos. Thomas Middleditch has just boarded the Office spin-off The Farm in the role of Dwight's baby brother Jeb, described as his "polar opposite." A thirtysomething slacker, Jeb's greatest achievement in life so far is a running successful pot farm.
Middleditch joins Majandra Delfino, who'll play his left-leaning sister Fannie; Blake Garrett, who'll play his oddball nephew Cameron; and of course Rainn Wilson, who'll continue his Office role as Dwight. The new characters will be introduced in an episode of The Office this fall. Should NBC move forward with The Farm, the show will follow the siblings' misadventures trying to run the farm / B&B they've inherited. [TV Line]