Watch Some 'Ghost Rider: Spirit Of Vengeance' Deleted Scenes And Raw Set Footage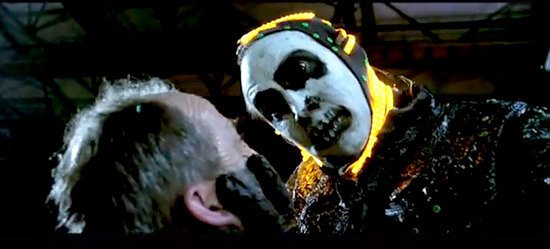 OK, so while the idea of the guys behind Crank making a Ghost Rider film seemed like a good idea on paper, it didn't quite work out that way. Ghost Rider: Spirit of Vengeance has a few good sequences, sure, but most of it is fairly dire.
But there is a bit more entertainment to be had from the production. A set of deleted scenes and behind the scenes clips gives us a bit more footage of Nicolas Cage as he plays a man in the throes of demonic possession. The best part is that some of this material has unfinished effects, so we get to see the kooky light rig and makeup that Cage wore on set as he played Ghost Rider.
In addition to the great footage of Cage at work, watch for the toothpick in the big Ciarán Hinds scene in the middle of this reel.
A good compliment to that is this reel of VFX breakdowns from the film. This has been floating around for a couple months, but if you haven't seen it yet take a look:
[CBM]