Sequel Bits: Chuck Norris Is Done With 'The Expendables,' Plus 'Snow White And The Huntsman,' 'The Girl Who Played With Fire,' 'The Inbetweeners 2'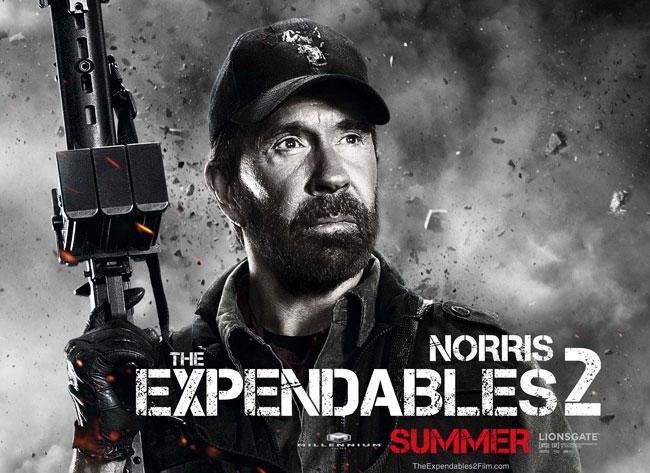 The sequel news today involves from pretty big franchises, or some high-profile ones at least. After the break read about the following:
One Expendables film was enough for Chuck Norris,
David Koepp is no longer working on a Snow White and the Huntsman sequel,
The Girl Who Played With Fire remains in development, but David Fincher's participation as director remains uncertain,
and the UK comedy The Inbetweeners is looking likely for sequelization.
It's not that Chuck Norris didn't have a good time making The Expendables 2 — or perhaps he's just being polite, and still isn't happy about the film being R rather than PG-13 — but he says thanks, but no thanks to a part in a third film.
Asked about moving forward with the Expendable crew, Norris told Access Hollywood (via Dark Horizons),
Nope. Just number 2. This is it for me. Oh, yeah. This is very special... Just to be able to do the film with guys I've known for many, many years. To get a chance to get in and fight with them, it was a lot of fun. Plus getting a chance to meet Terry Crews, who I hadn't met before. And Jason Statham, whom I hadn't met before. It was fun just to do that.
Producers are already talking about a third film, with Nicolas Cage reportedly in line for a role, and hopes for the participation of guys like Clint Eastwood and Harrison Ford. How any of that will shake out remains to be seen, but it seems reasonable to expect the third film to go forward, with or without Norris or the other targeted actors.
David Koepp's film Premium Rush opens this week, and Koepp was also writing the proposed sequel to Snow White and the Huntsman. That turned into kind of a thing when SWATH star Kristen Stewart was photographed making out with her married Snow White director Rupert Sanders. There have been conflicting reports about whether the sequel will feature Stewart or focus only on the Huntsman, played by Chris Hemsworth, and all we really know right now is that Universal wants to make another movie.
Well, we know a bit more now, as Koepp has said in multiple interviews that he walked away from writing the SWATH sequel. He told Movieline he had an idea that he "really liked," and that "their situation, I hear, changed a little, so they weren't interested in pursuing that idea anymore." In other words, maybe the reports of Stewart being out of the sequel are credible. Koepp explained,
I felt like there was a good path with her, but then they wanted to explore a different thing that I had no ideas for. If you don't have any ideas, you should probably put your pen in your backpack and go home... we agreed to part ways and stay friends.
Then there's The Girl Who Played With Fire, the second chapter of Steig Larsson's Millennium trilogy. Sony was pretty hot on the property when David Fincher was hired to direct The Girl With the Dragon Tattoo, but we've wondered if Sony might not be quite as hot on it now, after Dragon Tattoo failed to make much noise upon release.
EW has learned that Dragon Tattoo screenwriter Steven Zaillian is still cranking away at the script for The Girl Who Played with Fire, and without that draft in hand the film is at a standstill. At this point David Fincher may or may not direct, but we're not likely to know anything until Zaillian hands in a draft. More to the point, EW says "the film is still definitely moving forward," though there isn't a rush and there isn't a release window targeted. Rooney Mara and Daniel Craig have both been said to be locked in for the second film, which is what we'd expect as per standard studio procedure.
Finally, The Inbetweeners has turned from successful UK show into a successful UK film, and what looks like it might be a less-than-successful MTV adaptation for the US. The film is opening in the States on September 7, but the guys behind it say there are already ideas for a sequel.
The Inbetweeners co-creator Damon Beesley told the Sun about the possible sequel: "I don't want to give too much away at this stage but we have been developing an idea for a sequel." And per Variety, Iain Morris tweeted when asked about Beesley's comments, "Yes, but it's far from signed and like Damon said we want to make sure we have a good enough story to tell."