'Wreck-It Ralph' Concept Art Discovered At Disney's Hollywood Studios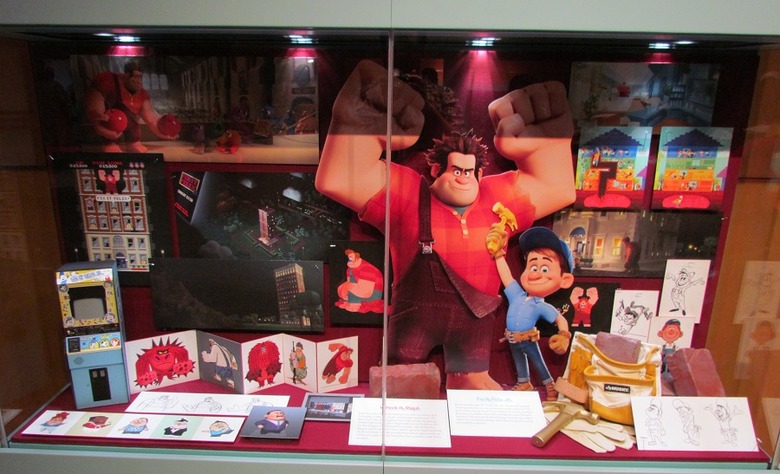 If you're reading this story, you're probably interested in Disney's upcoming video game-inspired film Wreck-It Ralph. And you should be. The film, directed by Rich Moore, follows a video game bad guy named Ralph (John C. Reilly) who leaves his home game, Fix-It Felix Jr., and ventures out into the arcade to try and prove himself as a hero. He heads into a first person shooter called Hero's Duty, a sweet racing gamed called Sugar Rush and meets a bunch of your favorite video game characters along the way.
Recently, I ran a massive article on the film that included 50 things you didn't know about the movie. One thing I didn't know about the movie after writing that article was that Disney has several pieces of concept art from the film currently on display in the Magic of Animation exhibit at Hollywood Studios in Orlando, FL. After the jump, check out a bunch of images which serve as an almost visual companion to that previous article.
The following photos come from The Disney Blog. Below, I'll attempt to give them some context but definitely click on each image. There is a LOT of information.
I'm going to number these like pages of a book, left to right, then down. Here goes.
Tons of views of King Candy, the boss of the racing game Sugar Rush. He's voiced by Alan Tudyk. Notice all the candy shaped building drawings, all very reminiscent of Antoni Gaudí's architecture.
Concepts and final images of Vanellope von Schweetz voiced by Sarah Silverman. Not lots to pick out here save for how Vanellope's design changed from being sweet and cute, to a bit more spunky when Silverman's performance was added to it.
This is sort of a catch all featuring Ralph and Fix It Felix Jr., voiced by Jack McBrayer. Again, you see how both characters evolved to more accurately look like their real life counterparts. Two specific things in this case are highlights in the next two images.
Some sort of concept where Ralph digs underground and then bursts up through the apartment building of NiceLand. I'm not sure if this is a scene that's in the movie or just an early version of Ralph crashing the Nicelander party but notice how the edges are all pixels, like an 8-bit video game.
Theres are Nicelanders, the citizens of NiceLand which is the land Fix It Felix Jr. takes place in. The middle one is based on Disney's John Lasseter but he did not make the final film.
A case highlighting the hi-tech, first person shooter Hero's Duty, starring Sergeant Calhoun (Jane Lynch). Some of the highlights upon inspection include the cool ship designs and, more importantly, the Cy Bug's on the right. They're the bad guys in Hero's Duty and play a very important role in the film. The final page of my 50 Things article has the spoiler.
Here's a big case for Sugar Rush. So much to see her including all the candy inspired landscapes, candy themed race cars and even a Cinderella inspired castle.
Again – all of what's described above is detailed in this previous article, but it's cool that now you finally have a visual element to show what Wreck-It Ralph is going to have in store. What's your favorite image?