'Butter' Trailer: Slightly Soft All-Star Comedy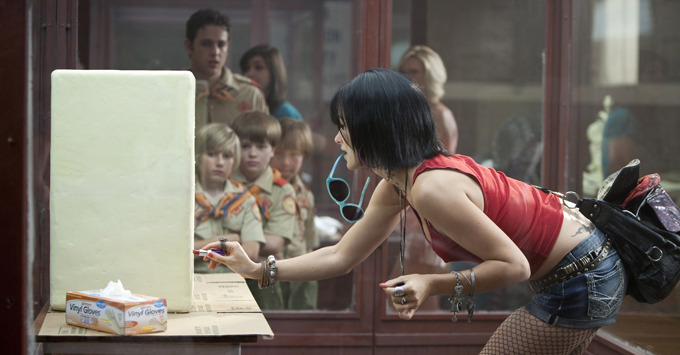 Hey, remember Butter? The satire shot what seems like years ago (in fact it was only 2010) and did the rounds of the festival circuit last year. Picked up by Radius-TWC, aka the new arm of The Weinstein Company, the film was dated for release this spring, then pushed back to October to take advantage of the political climate that will be at a peak in the US then.
No surprise, then, that the first official trailer plays up the political satire embedded in the film. Jennifer Garner plays a buttoned-up conservative whose husband (Ty Burrell) is a long-standing butter-carving champ. He has to retire, and she steps into the contest, only to face a talented young black girl named Destiny (Yara Shahidi), whose adoptive father (Rob Corddry) gets a lot of the trailer's laughs. This footage hints at some of the film's other aspects, like Olivia Wilde's stripper character (above, without a hint of the sex scene that Pete hinted would be a talking point) and vaguely introduces Hugh Jackman as well. 
Pete didn't love the film last year at Telluride, but praised the screenplay and performances such as the one from Corddry, and Jackman's comic turn.
Yahoo has the trailer.
Laura Pickler (Jennifer Garner) is the kind of woman who doesn't accept defeat lightly. That's why when her husband (Ty Burrell), 15-time winner of the town's butter carving competition, wants to step down, she takes it upon herself to win the championship title herself. And she'll do whatever it takes to save her family's reign in the spotlight, even if it means complete sabotage of her two biggest competitors — a 10-year-old foster child (Yara Shahidi) and husband's hard-living mistress (Olivia Wilde).