/Film Exclusive: Limited Edition 'Raging Bull' Screenprints From Spoke Art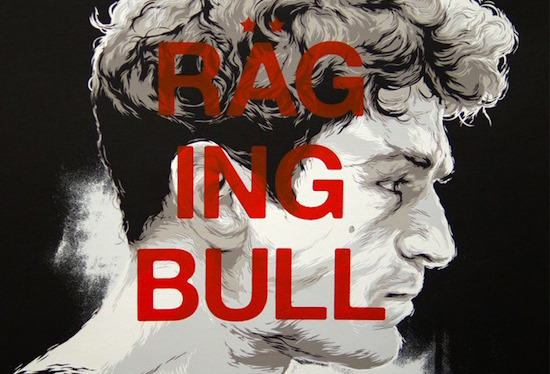 In 1980, Martin Scorsese set the bar for the best film of that decade with his black and white boxing masterpiece, Raging Bull. Starring Robert De Niro as legendary boxer Jake LaMotta, Scorsese's technique was dwarfed only by the performances he got out of his cast in the tale of a boxer's rise to the top and subsequent mental breakdown. In recent months, fans of the movie have been a bit up in arms as an unneeded, unauthorized sequel went into production putting the film's legacy on the line. That's since been settled and now fans have another reason to celebrate.
Spoke Art has commissioned Grzegorz Domaradzki, aka Gabz, to do a very limited edition screenprint for the classic film. It's available in both English and Polish, on both regular and metallic paper, and as you can see above, the image rules. You can check the posters out exclusively after the jump.
Here are Gabz's Raging Bull prints. The black and red ones are the regular and the gold ones are the variants.
For more of Gabz's work, visit his official site. The guy is a rising talent and these pieces are sure to sell out quickly.
All the prints are 18 x 24 inch screenprints. The regulars, in both English and Polish, are editions of 75 and cost $40. The variants, in both languages, are on metallic paper, are only an edition of 25 and cost $75. They'll be available tomorrow at the Spoke Art website. Follow @Spoke_Art for the exact time.