New 'End Of Watch' Trailer: Brothers Up Against The Wall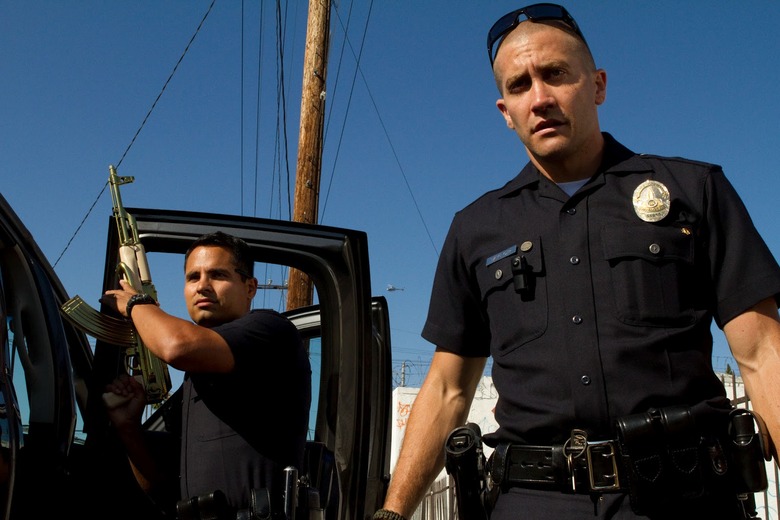 Training Day writer and Street Kings writer/director David Ayer seems to have put together a solid street-level LA cop movie in End of Watch, which features Jake Gyllenhaal and Michael Peña as close-knit LAPD partners who come up against a vicious drug cartel after a routine traffic stop. A new trailer for the film plays up some of the important character background of the two cops, crucially grounding them as recognizably real people, before things go all to hell.Anna Kendrick, Frank Grillo, and America Ferrara also appear; see them in the new trailer, below.
I like the look of the film, and can swallow the explanation of the handheld/found footage aesthetic, but the second half of the trailer, when it goes all guns blazing, is a lot less intriguing than the more character-oriented first half. Hopefully distributor Open Road is just trying to sell this as an action artifact, and we'll see that Ayer has made a serious cop movie when the film opens for real.
End of Watch hits on September 21.
A powerful story of family, friendship, love, honor and courage, End Of Watch stars Academy Award(R) nominee Jake Gyllenhaal and Michael Pena as young Los Angeles police officers Taylor and Zavala as they patrol the city's meanest streets of south central Los Angeles. Giving the story a gripping, first-person immediacy, the action unfolds through footage from the handheld HD cameras of the police officers, gang members, surveillance cameras, and citizens caught in the line of fire to create a riveting portrait of the city's most dangerous corners, the cops who risk their lives there every day, and the price they and their families are forced to pay.