'Lawless' Red-Band Trailer: Bare Skin And High Tension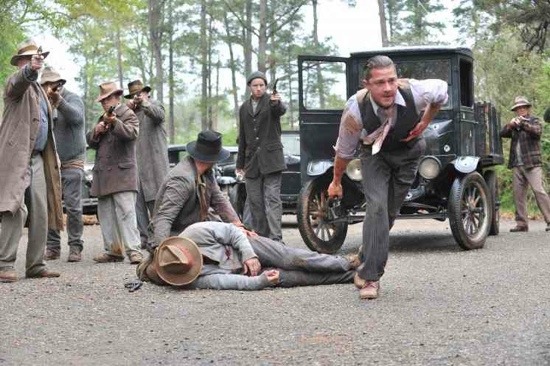 Earlier today we showed you some B-roll behind the scenes footage from John Hillcoat's new film Lawless, which stars Tom Hardy, Shia LaBeouf, Jason Clarke, Jessica Chastain, and Mia Wasikowska in a bootlegging tale with support from Guy Pearce and Gary Oldman. Now there is a red-band trailer to advertise the film's August 29 release. In truth, there isn't too much here that wasn't in the couple all-ages trailers we've already seen — a bit of nudity here and there is what marks this as "adults only." But there is an appeal to this trailer beyond that, as it leaves behind some of the flashy and too-modern feeling editing elements that some audiences found distracting in previous trailers.
Check out the not entirely new, but still relatively fresh look at Lawless below.
Vice, which has been posting a good amount of content related to the film, has the trailer.
LAWLESS is the true story of the infamous Bondurant Brothers: bootlegging siblings who made a run for the American Dream in Prohibition-era Virginia. In this epic outlaw tale, inspired by true-life tales of author Matt Bondurant's family in his novel "The Wettest County in the World", the loyalty of three brothers is put to the test against the backdrop of the nation's most notorious crime wave.