Never Mind 'Conan,' Here's A First Look At Arnold Schwarzenegger In David Ayer's 'Ten'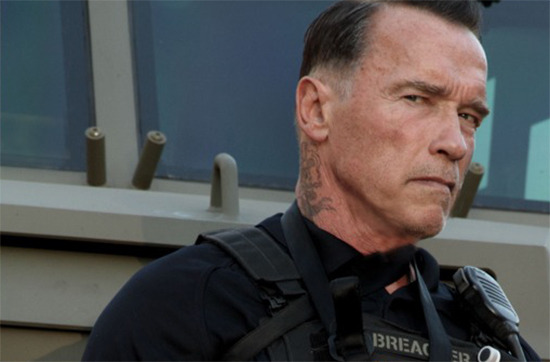 Arnold Schwarzenegger seems to be everywhere lately. We just saw him in The Expendables 2, and we've seen the trailer for The Last Stand, and an image of the actor alongside Sylvester Stallone in The Tomb. Oh, and then there was that little The Legend of Conan news break earlier today.
And now we've got the first pic of Arnie in yet another new film: Ten, once called Breacher, from David Ayer (End of Watch). Schwarzenegger appears alongside Sam Worthington, Terrence Howard, and Malin Akerman, playing part of an elite drug-busting DEA task force. It's the most overtly military look for Schwarzenegger in some time; he looks like a pretty serious hardass here. Check out a full pic below.
 The film follows an elite DEA task force that deals with the world's deadliest drug cartels. Specializing in complex mobile operations, the team executes a tactical raid on a cartel safe house. What looks to be a typical raid turns out to be an elaborate theft operation, pre-planned by the DEA squad. After hiding millions in stolen cash, the team believes their secret is safe – until someone begins assassinating them one by one.
Skip Woods (X-Men Origins: Wolverine, A Good Day to Die Hard) scripted. The cast also includes Dawn Olivieri, Joe Manganiello, Olivia Williams, Mireille Enos, Josh Holloway and Harold Perrineau. Here's Schwarzenegger's tweet revealing the image:
I'm having a great time working with @DavidAyerMovies on my new movie, Ten. Check out my look: http://t.co/sinNzu5o

— Arnold (@Schwarzenegger) October 25, 2012
Here's a bigger version: