'Knuckleball!' Trailer: A Documentary On Baseball's Most Elusive Pitch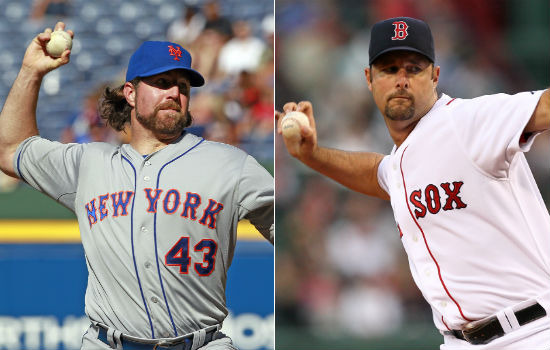 Speed and accuracy are generally considered to be the two most important skills while pitching. If a guy can clock in the 90s on the radar gun or paint the corner of the strike zone, he's likely to be a millionaire. However, in Major League Baseball, two pitchers remain mostly unaware of where their pitches will end up and somewhat disinterested at their speed. They are Tim Wakefield, formerly of the Boston Red Sox and R.A. Dickey, currently of the New York Mets. These two men throw the knuckelball, a pitch that slowly floats around in the air, dropping down for a strike. Its lack of speed and unpredictable accuracy have made the pitch a dying art form, regularly mocked, but in a new documentary by Ricki Stern and Annie Sundberg (Joan Rivers: A Piece of Work) they telling the inspiring story of two pitchers who have made the knuckleball their pitch of choice.
After the jump, check out the brand new trailer for Knuckleball!, which opens in select theaters and on demand September 18.
Here's the trailer for Knuckleball!
Knuckleball! was filmed during the 2011 season which, if you know anything about baseball, saw the rise of Dickey after years of impossible struggle and the retirement of Wakefield, a former world champion. Just having that ending to work toward frames this film in such a perfect way, it likely won't take a fastball to hit a home run.
Here's the official description that gives much more information on the film's production and aims:
From acclaimed filmmakers Ricki Stern and Annie Sundberg (The Devil Came on Horseback; Joan Rivers: A Piece of Work) this heartfelt, funny and deeply engaging film delves into the legendary subculture of the knuckleball and the brotherhood of men who share the drive, imagination and humility to throw baseball's slowest, most disrespected pitch.
Filmed throughout the 2011 season with extraordinary access from Major League Baseball, the story follows 37 year-old R.A. Dickey (New York Mets, now a 2012 All-Star) and 18-year veteran Tim Wakefield (now retired), the oldest player in the major leagues and an icon of the Boston Red Sox.  Knuckleball! details their personal and professional triumphs of the season, while exploring the bond between these two active pitchers and their only allies, the five living retired knuckleballers: Hall of Famer Phil Niekro, Charlie Hough, Wilbur Wood, Jim Bouton and Tom Candiotti. Knuckleball! tells the story of these extraordinary men, and the sacrifices they made to a pitch that would come to define their lives.
Interviews include beat reporters, columnists and writers like Ben McGrath, Roger Angell and Tony Massarotti; catchers Jason Varitek, Doug Mirabelli, and Josh Thole, as well as familiar icons Derek Jeter, Terry Francona, Joe Torre, Carlos Beltran and Buck Showalter.
Rich with footage from deep within the Major League Baseball archive, we get a glimpse of the resonance of baseball through a single pitch. KNUCKLEBALL! shines a light on the matchless journey shared by a small brotherhood of men, and the undervalued pursuits of honor, craftsmanship, and survival.
Read much more about the film and find out how to see it at the official website, www.knuckleballmovie.com. It opens September 18. I can't wait to see the movie.