Rumor: John Travolta Might Star In 'The Toxic Avenger'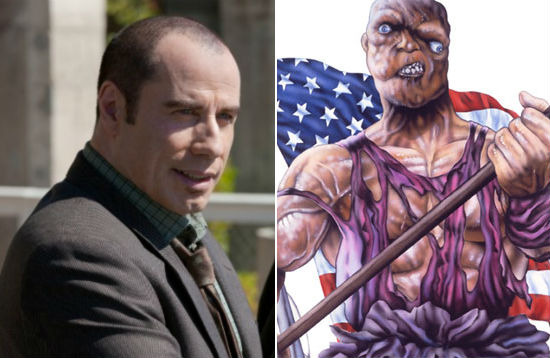 Despite his uncanny ability to end up in the tabloids, John Travolta has always remained a fearless actor. Whether it's singing in a musical, bumbling around in a dumb comedy, shaving his head for action or dressing up as a woman, Travolta seems always willing to try new and interesting things. So it's only partially surprising that an industry tracking board posted a rumor the Oscar-nominated star of Pulp Fiction and Saturday Night Fever is interested in starring in the remake of the Troma classic, The Toxic Avenger. Read more after the jump.
The info comes from It's On The Grid via Bloody Disgusting but it's important to remember that tracking boards don't always run 100% locked in info so this should still be considered a rumor. (And a pretty wild one, at that.)
Directed by Michael Herz and Lloyd Kaufman, the original Toxic Avenger was released in 1984 and helped put the low-budget, gross out, independent film company Troma on the map. It's since spawned three sequels, most recently 2000's Citizen Toxie, a musical, a cartoon and more. The basic story is about a health club employee who gets caught in a vat of toxic waste and becomes a mean, fun, superhero.
Back in 2010, Accepted and Hot Tub Time Machine director Steve Pink was hired to write and direct a remake of the film, with Kaufman and Herz producing along with Akiva Goldsman. The rumor was this film would be less gory and more family friendly, along the lines of Jim Carrey's The Mask. Also, it's not clear if Travolta is the actor who might don the droopy eye and mop in the lead. In fact, it's likely he'd play a villain or something else.
At first glimpse, this obviously seems very far-fetched. But as I said at the top, Travolta has always played surprising and non-traditional roles. Doesn't this sound like a fun role for an actor? Who wouldn't love to play with a bunch of makeup, grab a mop and fight some crime? I really hope he does it.
What are your thoughts on this?