'The Frozen Ground' Sales Trailer: John Cusack Really Doesn't Like Vanessa Hudgens As A Stripper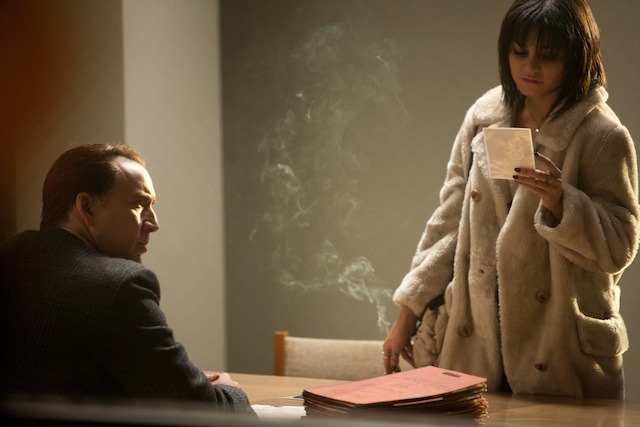 The trailer for the Nicolas Cage / John Cusack serial killer move The Frozen Ground starts with quite a one-two punch: a Bible verse followed by the tag "based on actual events." So you know this is serious. And, sure, this is serious subject matter, as Cusack plays a version of real-life killer Robert Hansen, and Cage is the weary detective on his trail. In fact, Cage's current over-exposure and general sense of weariness are fairly perfect for this sort of "tired cop" role.
Yet as Vanessa Hudgens grinds away her Disney image on a stripper stage and everyone else stumbles around to the tune of 'All Along the Watchtower,' the production looks terribly flat and barely appealing. Hopefully that's just the way the trailer is cut; make your own guess after watching below.
And note: while this seems to be more like a sales trailer than anything else, with some rough cuts, low audio and a bit of R-rated language, it isn't quite a red-band edit. But it might not be quite office-safe, either.
Now, this is an early trailer, and so when we see the "real" trailer cut to promote an eventual release of some sort, it might play a good bit better than this one. But the truth is that the underlying footage looks fairly ineffectual. Cusack occasionally seems to be doing his best "Robin Williams in Insomnia" act, though.
LionsGate will be releasing The Frozen Ground in some form on November 30.
"The Frozen Ground" follows Alaskan detective Glenn Flothe (Cage) as he sets out to end the murderous rampage of Robert Hansen (Cusack), a serial killer who has gone unnoticed for 13 years. As the bodies of street girls start to add up in Anchorage, fear strikes a chord with the public.  Risking his life, Detective Flothe goes on a personal manhunt to find the killer before the next body surfaces. When a seventeen year old escapee reveals key information about the case, Flothe is finally able to trail the killer. But will he catch him in time to save the next victim?