Kevin Costner In Talks For 'Jack Ryan' And 'Without Remorse'; Tom Hardy Wanted To Play John Clark In Latter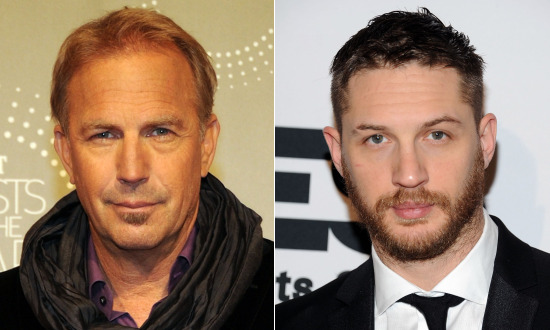 Kevin Costner's talks with Paramount for the Jack Ryan reboot haven't just progressed, they've expanded. Earlier this month, we got word that the studio was courting Costner for a "co-lead" as the mentor to Ryan (Chris Pine) in the Tom Clancy reboot. Now it appears Costner's involvement won't stop there. The character is also expected to appear in the spinoff Without Remorse, directed by Christopher McQuarrie, and may even wind up getting his own film down the line.
That makes Costner the first star tentatively attached to Without Remorse, though we can expect more news soon. Paramount and McQuarrie have started looking for a leading man, and they've got their eyes on Pine's This Means War co-star Tom Hardy. More about Costner and Hardy after the jump.
Meanwhile, Paramount's said to be courting Hardy for Without Remorse. Last seen beating Batman bloody in The Dark Knight Rises, Hardy's certainly got the dramatic chops and the action experience to pull off the role of the ex-Navy SEAL. Whether he's actually interested, however, we'll just have to wait and see. Hardy's already leading another action-oriented franchise, thanks to Warner Bros.' Mad Max: Fury Road.
After years mired in development hell, Jack Ryan's quickly picking up steam with Kenneth Branagh at the helm. Branagh will also star, as the villain, while Keira Knightley is in talks to play Ryan's girlfriend. James Earl Jones is expected to reprise his role from previous Jack Ryan movies as Admiral Greer, though he's not officially signed on yet.