'The Impossible' Trailer: 'The Orphanage' Director Juan Antonio Bayona Tackles The 2004 Indian Ocean Tsunami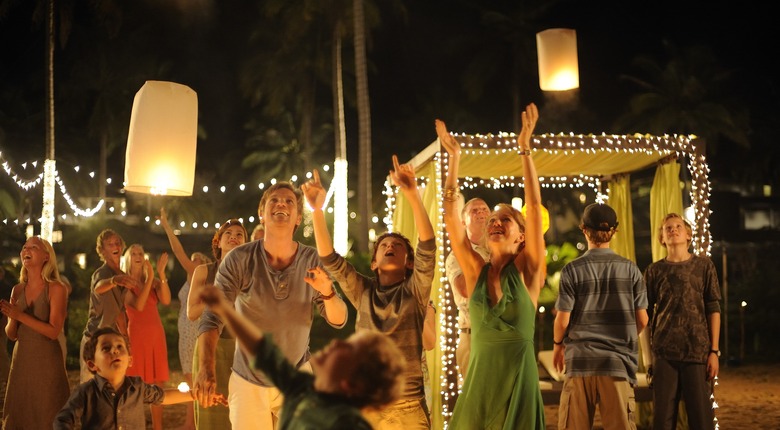 Five years after making his feature debut with the Guillermo del Toro-produced ghost story The Orphanage, filmmaker Juan Antonio Bayona is back with The Impossible, which deals with an entirely different kind of fear. Instead of tangling with things that go bump in the night, the family at the center of the new film are facing the less fanciful terrors of the 2004 Indian Ocean tsunami.
Ewan McGregor and Naomi Watts star as a couple on winter vacation in Thailand with their three sons when tragedy hits. Torn apart in the chaos, the family struggles to reunite as they help and are helped by strangers along the way. Watch the new trailer after the jump.
The last Spanish-dubbed trailer was cut almost like an ad for a horror film, focusing on the dread and fear of its characters and the sobering destruction that the disaster has left behind. This one looks a little sweeter, playing up the story's triumphant aspects. Taken together, the promos suggest a drama that's all the more inspiring because it doesn't sugarcoat the horrors of the tsunami.
The Impossible opens December 21.
Synopsis:
Based on the true story of one family's survival of the 2004 tsunami, THE IMPOSSIBLE stars Naomi Watts and Ewan McGregor and is directed by J.A. Bayona (THE ORPHANAGE).
Maria (Naomi Watts), Henry (Ewan McGregor) and their three sons begin their winter vacation in Thailand, looking forward to a few days in tropical paradise. But on the morning of December 26th, as the family relaxes around the pool after their Christmas festivities the night before, a terrifying roar rises up from the center of the earth. As Maria freezes in fear, a huge wall of black water races across the hotel grounds toward her.
THE IMPOSSIBLE is the powerful and unforgettable account of a family caught, with tens of thousands of strangers, in the mayhem of one of the worst natural catastrophes of our time. But the true-life terror is tempered by the unexpected displays of compassion, courage and simple kindness that Maria and her family encounter during the darkest hours of their lives. Both epic and intimate, devastating and uplifting, The Impossible is a journey to the core of the human heart.