Anna Kendrick, Felicity Jones, And Imogen Poots Lead 'Captain America: Winter Soldier' Shortlist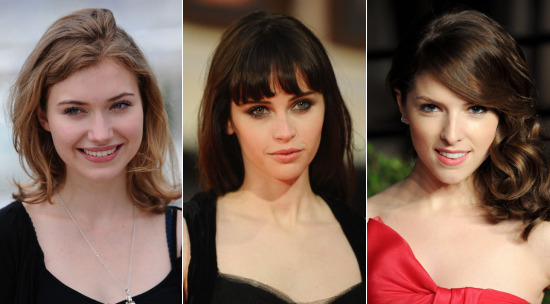 Movie superheroes tend to be faithful boyfriends, sticking with a single love interest for the entire duration of their franchise, or at least a couple of installments. But alas, the specific circumstances surrounding Captain America's romance with Peggy Carter (i.e., the whole "being frozen in a block of ice for six decades" thing) make it impossible for the pair to reunite in proper fashion.
So the search is now underway for a new lady to star in Captain America: The Winter Soldier, and directors Joe and Anthony Russo have reportedly whittled down the options to three excellent actresses: Anna Kendrick, Felicity Jones, and Imogen Poots. More details after the jump.
Any of the three stars would be solid choices. Kendrick's developed a reputation as a warm, sharp-witted actress with chops to spare — she earned a supporting Oscar nomination for her turn in Jason Reitman's Up in the Air. Captain America wouldn't be Kendrick's first franchise gig, as she's had a recurring role in most of the Twilight movies, but she'd be playing a more central character here.
Poots and Jones aren't as well known as Kendrick, but they're definitely on their way up. Poots' recent projects include Jane Eyre and the Fright Night remake, and she's currently shooting  Terrence Malick's Knight of Cups. Jones, who broke out in last year's Like Crazy, has little experience with action movie franchises but seems destined to end up in one sooner or later. She was also recently among the finalists for the female lead in Paramount's Jack Ryan reboot, though the part ultimately went to Keira Knightley.
Whichever actress lands the part will be joining fellow series newcomer Anthony Mackie, who was cast as Falcon last month. Chris Evans, of course, will reprise his role as Steve Rogers a.k.a. Captain America. The film is slotted for an April 4, 2014 release.