/Film LA: Huge Stanley Kubrick Retrospective, Plus Screenings Of Cinerama Dome Originals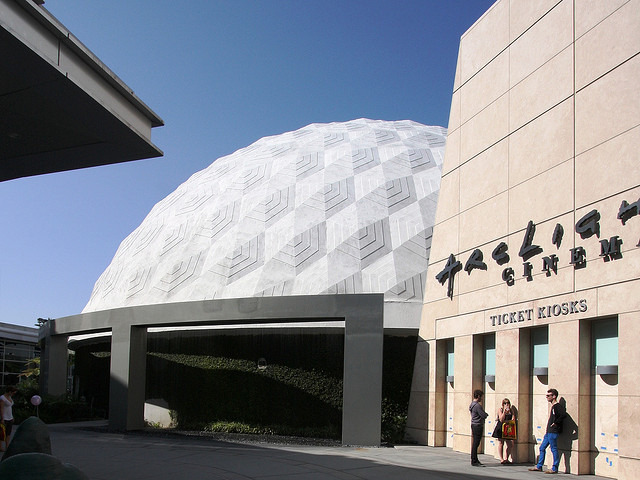 Big movies, literal ones, are coming to Los Angeles. From September 28th to October 4th, the Cinearama Dome at Arclight Hollywood is planning on playing a slew of the original films that played the Dome in 1963, in massive three strip Cinerama projection. Among the titles are How The West Was Won, This Is Cinerama and The Wonderful World of The Brothers Grimm. There wil also be 70mm or 2K projection of It's A Mad, Mad, Mad, Mad World and 2001: A Space Odyssey among others.
Speaking of that sci-fi classic, the Los Angeles County Museum of Art is co-hosting what organizers call the first ever American retrospective of legendary filmmaker Stanley Kubrick, from November 2012 through June 2013. The event will include an ongoing exhibit of " archival material, annotated scripts, photography, costumes, cameras and equipment, set models, original promotional materials, and props." Then, of course, there will be screenings and events that take place too.
After the jump, find links to more information including schedules and tickets.
For information on the Cinearama Dome series at Arclight, including the schedule, click here. Tickets are available here. And here's a bit of explanation:
For the FIRST & ONLY time for one SPECTACULAR WEEK we will be playing twelve classic Cinerama productions. Select titles will be presented in the original 3 strip Cinerama process and additional titles will be digitally projected, re-mastered from the original negatives.
All of the films will be presented in the Dome, one of only three theatres in the world capable of projecting in 3 strip Cinerama. Specially designed to project Cinerama, the Dome features a giant, 126-degree curved screen that immerses audiences in the picture. Made of 316 hexagons and pentagons, the Dome is the only concrete geodesic dome in the world.
Starting off the series in the WORLD PREMIERE of IN THE PICTURE, the first film photographed in 3 strip Cinerama in 50 years!
The Kubrick exhibit (official website here) opens November 1 with an event called "An Academy Salute to Stanley Kubrick" hosted by Malcolm McDowell, the star of A Clockwork Orange. You can read the full press release at this site. But keep an eye on the LACMA site and their social media over the next year for what are sure to be awesome events.
Photo Credit: Flickr 7500