More Early Praise For 'The Master' After Chicago 70mm Screening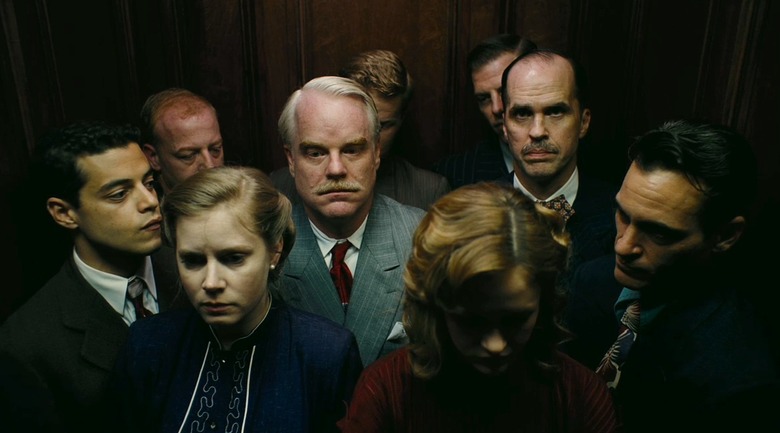 Paul Thomas Anderson did another early screening of his new film The Master in 70mm last night at Chicago's Music Box Theater, to follow on the Santa Monica showing that took place a couple weeks ago. Just about the only people who seem to be unhappy about that are officials at film festivals, as praise for various aspects of the film is pouring in via Twitter and a few reviews. (The Venice film gave The Master a slot in competition, but the showing will now hardly count as a world premiere.)
It would be wrong to suggest that the praise for Anderson's latest film is uniform. The film follows a drifter (Joaquin Phoenix) as he comes into the orbit of the magnetic title character Lancaster Dodd (Philip Seymour Hoffman) and Dodd's wife (Amy Adams), who have organzied a coterie of followers around Dodd's philosophical approach to life. The film's performers are universally acclaimed so far, as is the visual presentation, specifically as seen in 70mm. Some seem to be seeking a new film to lead the charge in the battle between film and digital, and have found it in The Master. But the movie is also called a bit aimless (which isn't necessarily a point of complaint) and referred to as one that takes a lot of processing time.
See some of the reactions below.
The Playlist had a reviewer in the house, who called the performance from Phoenix "a truly unnerving revelation," and noted "an early scene, in which Lancaster interviews Freddie about his past using a series of test questions, is unequivocally the film's centerpiece, as both players raise each other's game with every line and glance to ensure everyone that yes, these actors are capable of truly amazing things."
Many reactions have also come in via Twitter:
When you guys buy tickets to The Master next month, go ahead and buy 2. Like There Will Be Blood, a second viewing will be mandatory.

— PatrickRipoll (@PatrickRipoll) August 17, 2012
Hoffman. Phoenix. Adams. Anderson. ALL at their absolute best. Do not ask me about the film. NEEDS thought and 2nd viewing. #TheMaster

— Andrew Rostan (@AndrewRostan) August 17, 2012
The Master is a beautifully crafted meditation on salvation, love, and art. It's a tad sloppy, but its beyond inspired.

— Josh Brunsting (@joshbrunsting) August 17, 2012
Wow. #THEMASTER70MM

— Cigarettes&RedVines (@cigsandredvines) August 17, 2012
THE MASTER in 70mm was so gorgeous my eyes nearly exploded. And it is ripe with flawless acting. Also reminded me a lot of The Godfather.

— Mike Eisenberg (@Eisentower30) August 17, 2012
Hoffman. Phoenix. Adams. Anderson. ALL at their absolute best. Do not ask me about the film. NEEDS thought and 2nd viewing. #TheMaster

— Andrew Rostan (@AndrewRostan) August 17, 2012
The Master was beautiful. What a wonderful experience in 70mm. No one does it better than PTA.

— Mark Schoeck (@MarkSchoeck) August 17, 2012
The Master was good.Great performances. Lots to think over. 70mm looked amazing such detail yet softness. Felt like IMAX but small screen.

— Phillip Jackson (@phil_jackson) August 17, 2012
The acting and direction in #TheMaster are impeccable. No doubt about that. The story? Still wrapping my head around it.

— Gaby Bondi (@GabrielleAdelle) August 17, 2012
Basically, The Master is Amnesiac to There Will Be Blood's Kid A.

— graefist (@jongraef) August 17, 2012
See THE MASTER in 70mm and then talk about digital as "progress." Yeah, didn't think so.

— Scott Tobias (@scott_tobias) August 17, 2012
THE MASTER (A-) Addicting, aimless chaos, emoted with deranged precision by Phoenix. Electrifying cinema, aggressively cryptic storytelling.

— Danny King (@thekingbulletin) August 17, 2012
#TheMaster70mm should make all those who led the charge for digital filmmaking weep in shame.

— Brian Tallerico (@Brian_Tallerico) August 17, 2012
#themaster at @musicboxtheatre is gorgeous. JP's frayed edges are an elegant counterpoint to PSH's perfectly pitched bombast.

— Brendan Dowling (@berndandooling) August 17, 2012
If you know what is going on the head of any of the characters in #TheMaster, then you are a better Thetan than I.

— timhorsburgh (@timhorsburgh) August 17, 2012
The Master is one awesome, crazy mess of a movie. Can't wait for a second viewing!

— Dr. Neptune (@DrNeptune) August 17, 2012
I'm not at a level capable of reviewing what I just saw, but I know it was absolutely gorgeous in #70mm. #TheMaster @musicboxtheatre

— Lawrence Benedetto (@lawonthedraw) August 17, 2012
Going to need some time to mull over #TheMaster I will say 70mm is gorgeous

— Chris Zois (@zoischicago) August 17, 2012
#THEMASTER70mm demonstrates a deep concern for its historical inspiration: readers of certain lore of personality may be amazed.

— Ray Pride (@raypride) August 17, 2012
#THEMASTER70mm demonstrates a deep concern for its historical inspiration: readers of certain lore of personality may be amazed.

— Ray Pride (@raypride) August 17, 2012
Not a bit surprised that the immediate reaction to THE MASTER is "I need to process it." I'll take my first crack at a review in the morning

— Steve Prokopy (@CaponeAicn) August 17, 2012
A story about free will and discovering the constraints that hold us back. Wonderful. #TheMaster #ThanksMusicBox

— bobznc (@bobznc) August 17, 2012
It's almost criminal to want to review THE MASTER immediately before giving it a second viewing. A lot to process in one sitting this late.

— Erik Childress (@EriktheMovieman) August 17, 2012