'Lawless' Behind The Scenes Footage Shows Guy Pearce, Tom Hardy, And Jessica Chastain At Work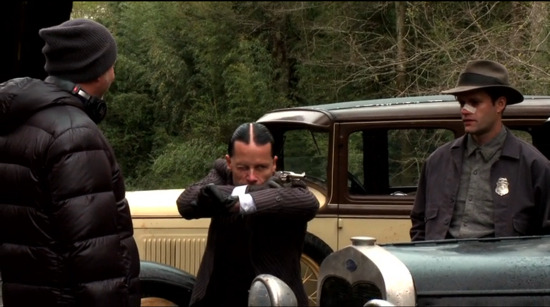 After a long development process, which nearly resulted in the film being canceled overall, John Hillcoat's latest film Lawless (formerly The Wettest County and The Wettest County in the World) is about to hit theaters. We've seen a couple trailers, and some great info graphics that collate info about the film's tale of bootleggers and rouge lawmen.
Now we've got two good collections of behind the scenes B-roll footage that shows Hillcoat on set with key actors Jessica Chastain, Tom Hardy, Guy Pearce, Mia Wasikowska, Jason Clarke, and Shia LaBeouf. Pete mentioned them in Page 2 yesterday, but some of this footage is too much fun to leave there. While some behind the scenes footage reveals how much trickery goes into making a film work (see the recent The Avengers gag reel and Captain America's cheap-looking costume) other times we see just how legit some sets and costuming can look even without much post-production magic. That's the case here. Check out ten minutes of footage below.
[Vulture]