Mike Birbiglia & Ira Glass Respond To Joss Whedon's 'Sleepwalk With Me' Boycott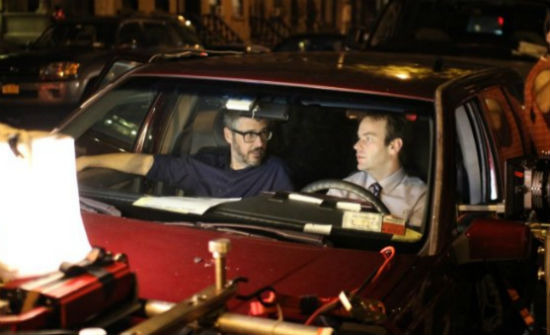 Okay, I know it's fake. I know Joss Whedon, Mike Birbiglia and Ira Glass are all friends, but I don't care. This fabricated Internet war between The Avengers and Sleepwalk With Me is really clever and fun. It started earlier this week when Whedon, director of the third largest film of all time The Avengers, called for a boycott to the delightful, Sundance audience award winner directed by Birbiglia and co-written by Birbiglia and Glass (This American Life). Whedon's quarrel was that The Avengers was in danger of losing screens to Sleepwalk and, therefore, fans should boycott the movie. But not before he gave it several flattering compliments.
Now Birbiglia and Glass has responded with their plan on how Sleepwalk With Me is going to outgross The Avengers. Not only is it funny, it's one of those eye-opening realizations just how successful a movie can be. Check it out below.
Here's Ira Glass and Mike Birbiglia responding to Joss Whedon.
Take away the humor and obvious exaggeration, what's left? The mind-boggling numbers that The Avengers has put up since its release. Glass and Birbiglia layout how much business an independent movie would have to do to compete with one of these major Hollywood films and while their delivery is filled with humor, it also is kind of sad. I thought The Avengers was a ton of fun but Sleepwalk With Me is a genuine great movie. Funny, heartfelt, surprising, everything you want in a trip to the cinema. Maybe it doesn't have any huge explosions, Iron Man flying around or hundreds of millions of dollars of marketing, but it probably deserves it.
That's why we're posting this. Because it's fun, because it's entertaining and because it's the best kind of advertising a fantastic film like Sleepwalk With Me can get: positive word of mouth.