'10 Years' Trailer: Channing Tatum, Chris Pratt, Oscar Isaac, And More Go Way Back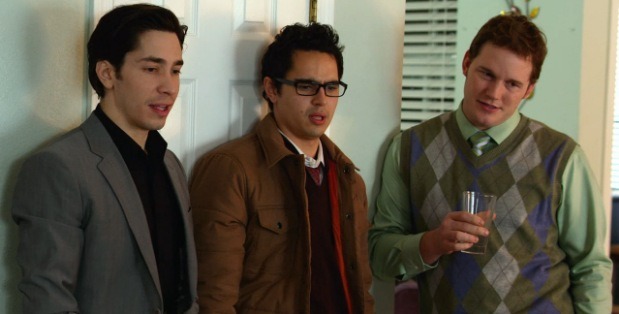 In the age of Facebook, finding out which of your high school friends got fat, rich, and/or married is a simple matter of entering their name into a search bar. But an entire movie centered around people "liking" baby photos or approving friend requests isn't likely to be very exciting, so in 10 Years a group of old friends decides to actually converge in the flesh for their high school reunion.
The film's bound to draw some attention for its cast alone: Channing Tatum, Jenna Dewan-Tatum, Lynn Collins, Rosario Dawson, Kate Mara, Chris Pratt, Ari Graynor, Justin Long, Anthony Mackie, Ron Livingston, Aubrey Plaza, Oscar Isaac, Scott Porter, and Brian Geraghty all star. Watch the first trailer after the jump, and make sure you stick around for the adorably awkward old photos at the end.
It's like American Reunion, sort of! Only without any of the gross-out humor or the decade-long history that made Reunion way more moving than it had any right to be.
I'm not convinced that people in real life are nearly as hung up on their high school years as people in movies are, but 10 Years could wind up being a sweet little drama if you're in a nostalgic mood. And as I've said above, that really is quite a cast. It may be worth the price of admission just to see all these young talents bouncing off of each other.
Written and directed by Jamie Linden, 10 Years opens September 14.
Synopsis
Jake is deeply in love with his girlfriend and ready to propose – until he runs into his high school flame for the first time in ten years. Jake's friend Cully married his cheerleader girlfriend, and has been looking forward to the reunion so he can finally apologize to all the classmates he bullied in high school. However, after a few too many drinks, the jock-turned-family man ends up reverting back to his old ways instead. Meanwhile, longtime rivals Marty and A.J spend the night still trying to one-up each other to impress the coolest girl in class, who now has a secret. The famous one of the group, Reeves, is now well-known musician, but is still too shy to talk to the high school crush who inspired his one hit wonder.