'The Master' Clip Ponders Pleasure And Pain; Watch In 70mm Tonight In Chicago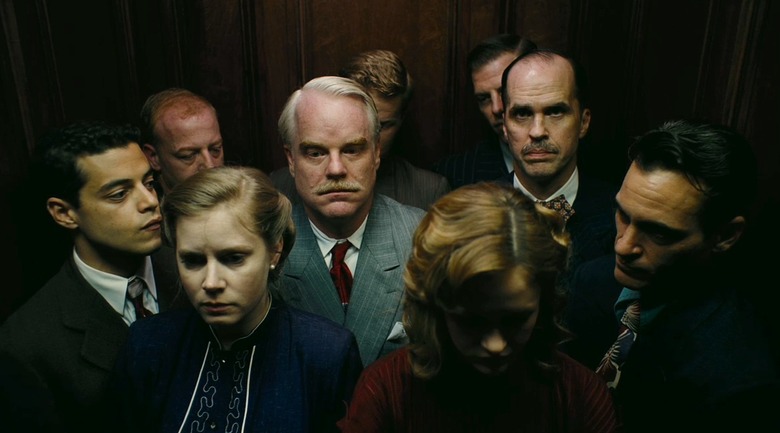 We got our first teaser clip from Paul Thomas Anderson's The Master in May, followed by a second in June, and then the full-length trailer in July. In other words, we've been getting video about once a month all summer. Which means, yes, it's time for one more now that we've hit mid-August.
If you've been following the marketing so far, you'll have some idea of what to expect from the new clip. Jonny Greenwood's score once again pops up to set the uneasy tone, and stars Joaquin Phoenix, Philip Seymour Hoffman, and Amy Adams continue to convince us that they'll be nominated for some little gold statues before this is all over.
But just because it's not terribly surprising doesn't mean it's not breathtaking. Hit the jump to watch the video — which, by the way, promotes a 70mm screening scheduled for tonight in Chicago. Details on that after the jump, too.
[via The Master Official Website]
It's been a long five years since Anderson's last film, There Will Be Blood, but everything we've seen from and heard about The Master so far suggests it'll be worth the wait. This scene looks pretty powerful as it is. No doubt it'll prove even more potent once we get to actually watch it in context on the big screen.
Especially if you're lucky enough to catch it in 70mm. (Russ offered some good info about the film's format in a recent post, which you can read here.) If you'll be in Chicago tonight (that'd be Thursday, August 16) around 10:00 PM, the Music Box Theatre is hosting a special one-night-only screening to benefit the Film Foundation. Get more details here.
For the rest of us, The Master opens September 14.