'Prometheus' Blu-Ray To Feature Nearly 15 Minutes Of Footage Deleted From Ending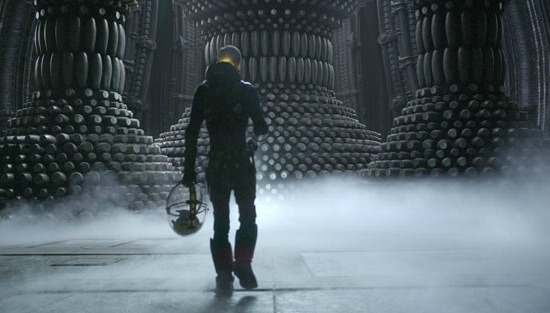 Audiences walked out of Ridley Scott's Prometheus with numerous questions, many of which came from the opened ended nature of the ending. Reports and photos released after the film suggested a bunch of footage hit the cutting room floor and it seems that's very much the case. A list of deleted scenes reportedly on the upcoming Blu-ray suggest 14 scenes running roughly 35 minutes (yes, "three" "five") are on the disc, including 15 minutes of footage from the third act of the film. Wow. After the jump, check out the full listening including spoilery titles.
Thanks to Bleeding Cool for this list, which they report comes from the British Board of Film Classification. (An E-mail to Fox Home Entertainment to double check these was not returned as of press time.)
It's the run time followed by the title of the scene:
00:02:31:16 ARRIVAL OF THE ENGINEERS
00:00:58:05 T'IS THE SEASON
00:00:42:08 OUR FIRST ALIEN
00:01:22:01 WE'RE NOT ALONE ANYMORE
00:02:57:01 STRANGE BEDFELLOWS
00:01:25:04 HOLLOWAY HUNGOVER
00:00:23:12 DAVID'S OBJECTIVE
00:03:27:07 JANEK FILLS VICKERS IN
00:03:40:12 A KING HAS HIS REIGN
00:02:01:24 FITFIELD ATTACKS
00:04:06:06 THE ENGINEER SPEAKS
Three of the titles really stand out:  "The Engineer Speaks," "Final Battle" and "Paradise," which run four minutes and six seconds, five minutes and 30 seconds and five minutes and five seconds respectively. The first two seems potentially revealing, but pretty self-explanatory, but something called "Paradise" taking place after the "Final Battle" sets off a huge red flag. Does that mean David and Shaw actually make it to the Engineer planet? That seems like the most obvious five minutes to go at the very end of the movie, right? How do these photos fit in?
Even if that's not what happens, the fact that 15 minutes of footage was cut from the end of the movie is staggering and potentially disturbing. If the footage is something fans feel improves the movie, they might began questioning Scott's choices as a director. This story is far from over and I can't wait for this release.