TV Bits: 'Boardwalk Empire', 'Parks & Recreation', 'Downton Abbey', 'Happy Endings', 'Arrested Development', 'Arrow', 'Suburgatory', Michael J. Fox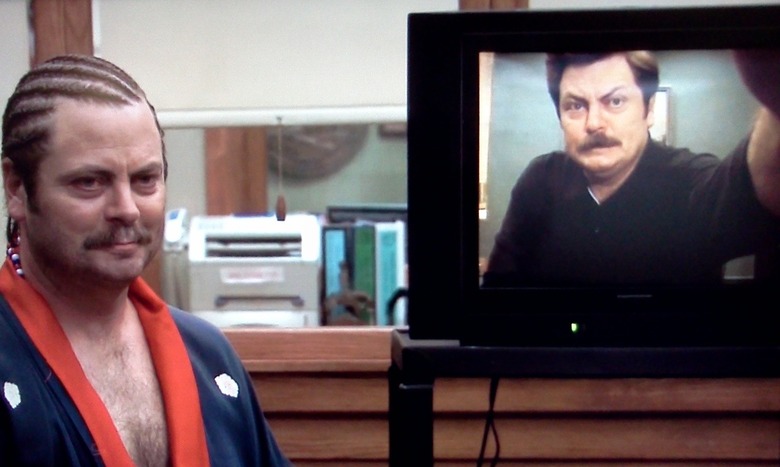 Ron Swanson hasn't always had the best luck with ladies, but maybe a visit from Xena herself — Lucy Lawless! — will turn things around. Also after the jump:
Michael J. Fox returns to TV with show based on his own life
Arrested Development gets new characters, including John Slattery
Archer voicer H. Jon Benjamin will show his face on Suburgatory
Torchwood's John Barrowman lands a recurring role on Arrow
Happy Endings' cast gets disco-fabulous in a Season 3 photo
See Shirley MacLaine in the new trailer for Downton Abbey
Everyone's got guns in the Season 3 trailer for Boardwalk Empire
Not surprisingly, the project has sparked an intense bidding war between the four major networks. Sources suggest the competition is so stiff, in fact, that the project could even get an offer to go straight to series — a rarity on broadcast TV. The comedy will be Fox's first regular TV gig since he left Spin City in 2001, though he's guest starred on a number of shows since then including Scrubs, Boston Legal, Rescue Me, Curb Your Enthusiasm, and The Good Wife. Wherever it lands, the show is expected to launch in 2013. [Vulture, Deadline]
We've known for a while that all the Bluths would be returning for the new season of Arrested Development, and that a few of their friends would tag along for the ride. But don't expect the new episodes to simply retrace the old steps. Narrator and exec producer Ron Howard told MTV News that new characters and new situations would figure in the upcoming episodes.
"[Creator] Mitch [Hurwitz] isn't trying to recreate something," Howard said. "It's been away for a while, and part of the fun that Mitch has been mining and exploiting is, what's new to discover about these people? What's delightfully unchanged? He and the writing staff and the actors have a fantastic sense of that. They're pretty brazen, pretty bold and fearless. That's what made the show into something that fans really kept alive."
And one of those fresh faces will be John Slattery, a.k.a. Mad Men's Roger Sterling. Who he'll be playing is unknown, but the character is said to appear in multiple episodes. The new run hits Netflix in 2013. [via TV Line]
As the distinctive voice behind Sterling Archer and Bob Belcher, H. Jon Benjamin is more often heard than seen these days. But in the new season of Suburgatory, he'll get to show his handsome mug as well. Benjamin will guest-star as Tabitha, a kooky life coach hired by Dallas (Cheryl Hines). The character is a master storyteller, but sorely lacking in the credentials department — he doesn't actually have a license to practice his unconventional methods.
Suburgatory returns to ABC for its second season on October 17. Benjamin will appear in the second episode. [TV Line]
In a casting move that should intrigue geeky TV fans, Torchwood and Doctor Who star John Barrowman has booked a recurring role on The CW's superhero drama Arrow. Producers are remaining coy about who exactly Barrowman will play, but have teased that he'd be "an acquaintance of the Queen family and a prominent figure in Starling City."
The secrecy suggests Barrowman may have been cast as someone familiar from the Green Arrow comics, but who? If it helps, the character has also been described as "well-dressed" and "as mysterious as he is wealthy." Barrowman won't appear in the first episode, which airs October 10, but is expected to recur in several episodes after that. [EW]
While Oliver Queen tangles with Captain Jack Harkness, the Pawnee Parks Department will be dealing with a visit from Xena. Lucy Lawless has just signed on for a multi-episode arc on NBC's Parks & Recreation, where she'll play a love interest for Ron Swanson (Nick Offerman). No, it's not another Tammy — although Parks & Rec fans may recall that Lawless was actually approached to play Tammy 1 before Patricia Clarkson was cast in the part.
Lawless will play a single mom named Diane, who turns to the city government for help dealing with a problem in her neighborhood. After Ron and Andy (Chris Pratt) are sent to help, Andy notices sparks flying between Diane and Ron. It's well known that Ron has a weakness for brunettes and "strong, self-possessed women at the top of their fields," so a warrior princess sounds like a pretty ideal fit. Season 5 of Parks & Recreation begins September 20. [Vulture]
We have no idea what's going on in this Season 3 still from ABC's Happy Endings, but the gang look good in their '70s-inspired ensembles, don't they? Dave's getup may even top Max's Mandonna outfit.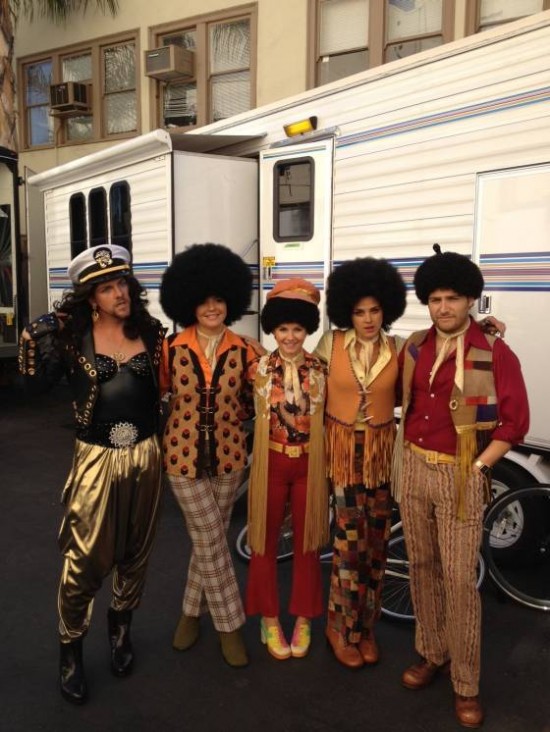 Happy Endings premieres October 23. [Vulture]
You didn't think it'd be smooth sailing for the Crawleys from here on out just because (spoiler alert!) Matthew and Mary finally got engaged in the Christmas special, did you? A peek at Season 3 of Downton Abbey shows the aristocratic family and their staff at the start of the '20s, dealing with money troubles and a very saucy Shirley MacLaine.
Downton Abbey's third season — or "series," as the Brits insist on calling it — will premiere next month in the UK and January 2013 in the US. [Vulture]
Across the sea, Nucky (Steve Buscemi) will be contending with problems of his own in '20s New Jersey. We don't know exactly what those problems are just yet, but evidently they involve a lot of guns.
Boardwalk Empire's third season airs on HBO starting September 16. [HBO]