'Raiders Of The Lost Ark' IMAX Trailer And Indy Marathon Info; Is Steven Spielberg The Next Big IMAX Convert?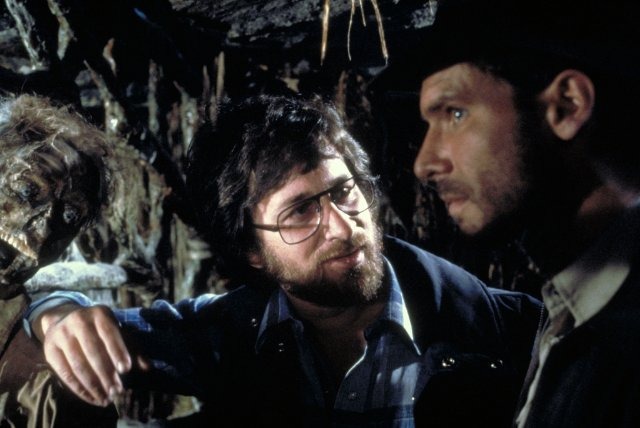 You might think there's not much to see in an IMAX trailer for a film that has been out for decades, and you're basically right, especially when looking at that trailer online rather than in an actual IMAX theater. But this trailer, which advertises the IMAX upconversion of Raiders of the Lost Ark, also comes with some other great info. AMC theaters is planning a marathon of the full Indy series to coincide with the Blu-ray release of the films, and Steven Spielberg talks about using IMAX for other films.
Before we get to the trailer, there's plenty of other Raiders stuff going on. First up, AMC theaters is having a four-film Indiana Jones marathon on Saturday September 15th, starting at 10:30am. You can get a list of participating theaters
, and the basic lineup details are as follows:
 - All 4 Indiana Jones films
 - A collectable poster and lanyard
 - $5 Bonus Bucks for AMC Stubs members
 - Ticket price is $25
Talking about the conversion of Raiders to IMAX, director Steven Spielberg said,
I didn't know if the 1981 print would stand up to a full IMAX transfer, so I came expecting a sort of grainy, muddy, and overly enlarged representation of the movie I had made [31] years ago. And I was blown away by the fact that it looked better than the movie I had made [31] years ago.
All the shadows in the earlier scenes that we shot in Hawaii [were] always kind of muddy anyway on 35mm, because we couldn't schlep all of our big arc lights down into this valley. Suddenly, there was definition in the shadows, which I had never seen before. And the shadows weren't murky and washed out; they were sharp as a tack.
Spielberg enthuses in general about the detail he found in the remaster process, and says that sound designer Ben Burtt restored all the original sound elements to go together with the upgraded picture. He says that he has long resisted converting films to 3D, with Jurassic Park being the only one he has agreed to do, and that no digital tweaks have been made to clean up Raiders.
He also says that he would think about mastering Close Encounters of the Third Kind for IMAX, saying, "I think the only other movie I would ever think about going out on an IMAX screen would be Close Encounters of the Third Kind. Forty percent of that film was shot in 70 millimeters, so the conversion would look extraordinary if we ever did put it up on an IMAX screen."
He also says he's doing 2D and 3D IMAX camera tests for Robopocalypse, which is his next film set to shoot.
I'm going to do an IMAX camera test, [both] a 2 and 3D test for my next movie 'Robopocalypse,' and I haven't decided whether I'm going to use the IMAX cameras, and I haven't decided whether it's going to be 2D or 3D yet, but I am in September going to start doing some tests.
Here's the IMAX trailer for Raiders, via
.
EDIT: And via
comes the poster for the Raiders IMAX release.