Sequel Bits: 'Lethal Weapon 5,' Mad Max: Fury Road,' 'Catching Fire,' 'Scary Movie 5,' 'Kick-Ass 2'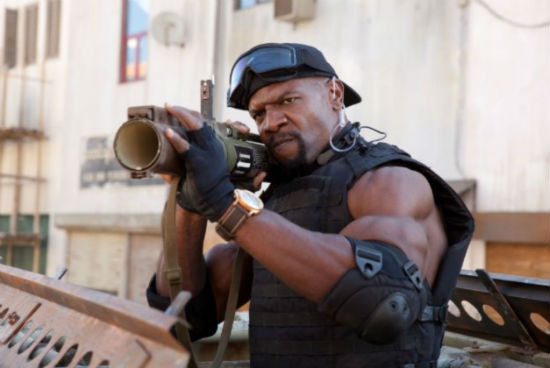 One actor joins a sequel and teases a second, while a different actor dismisses a sequel and approves another. All that and more in this edition of Sequel Bits. After the jump read about the following:
Mel Gibson says he wouldn't do a fifth Lethal Weapon and was at one point interested in doing Mad Max 4.
Speaking of Mad Max: Fury Road, an official plot synopsis has been revealed.
Christopher Mintz-Plasse has some choice adjectives for Kick-Ass 2.
Even more tributes have been cast in The Hunger Games: Catching Fire.
Gareth Evans tweeted a concept image from Berandal, the sequel to The Raid Redemption.
Expendables 2 and Newsroom star Terry Crews is joining Scary Movie 5 and seems confident Expendables 3 will happen.
The first two deaths of Scary Movie 5 have been confirmed.
Mel Gibson is promoting his direct-to-DVD action film, Get the Gringo, and did a very good interview with ComingSoon where he discussed a bunch of things including the possibility of Lethal Weapon 5 and any involvement with the fourth Mad Max, Mad Max: Fury Road. On the topic of Lethal Weapon 5, Gibson said he wouldn't be enticed to do it but wouldn't be surprised if it was remade:
I think the way things are going with "Total Recall," they'll just remake those somehow. Though it's really tough to replace Danny. He was so amazing in those things. It was a good gig for us. It worked. But we knew it would.
He then said that, years ago, he and George Miller talked about an idea for a new Mad Max but that it would have been way too expensive. He's 100% behind Mad Max: Fury Road though, met with Tom Hardy about it and will definitely be seeing the movie:
Oh yeah, I'll have a look. It'll be fun. I think he's a good actor. He commits completely and he looks great. There's this scary thing about him which is kind of right for that. Tom needed to sit down and talk more than I did. I'm really happy about that. But I hope they do a great job. I'm a big fan of George's.
Speaking of Mad Max: Fury Road, Latino Review posted a press release on the production which included the following plot synopsis. Head there for more info:
Mad Max is caught up with a group of people fleeing across the Wasteland in a War Rig driven by the Imperator Furiosa. This movie is an account of the Road War which follows. It is based on the Word Burgers of the History Men and eyewitness accounts of those who survived.
Christopher Mintz-Plasse spoke to Next Movie on the occasion of his latest film, ParaNorman, and seems very, very excited for Kick-Ass 2, which starts shooting soon:
I've read the script. You know, that's the thing with me. I never wanna get my hopes up with just reading the script. Like, I know how incredible it is, but I don't want to say the movie's gonna be great, because I have no idea. I have faith that it's gonna be awesome. We have Chloe [Moretz] back, Aaron [Johnson] back and myself. Matthew Vaughn's producing, but he's not directing, which I'm a little sad about, because he did such a good job with the first one. I have faith that it's gonna be bloody awesome.
Day by day, casting for Francis Lawrence's The Hunger Games: Catching Fire continues. We still don't know who's going to (officially) play Finnick Odair (though Sam Claflin seems likely) but today we found out who is playing District 1 tribute Cashmere: Stephanie Leigh Schlund. She's on the new Fox show The Following. See who else has to be cast on this Facebook page.
With The Raid: Redemption out on Blu-ray today, lots of people are talking about it. Mondo has a poster and now the writer director Gareth Evans took to Twitter (via Twitch Film) to reveal a new character in the eventual sequel: Berandal. Her name is Hammer Girl.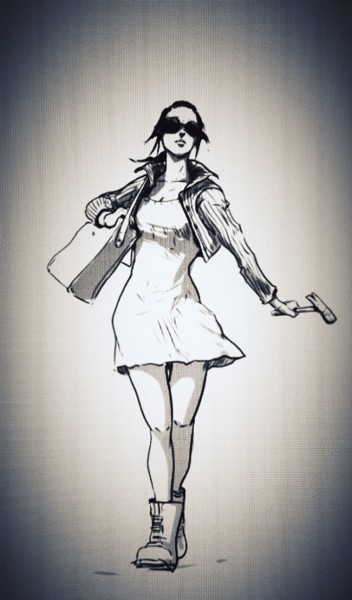 Terry Crews is having a great year. He's fantastic in a small role on HBO's The Newsroom, totally bad ass in The Expendables 2, and now he's been cast in Scary Movie 5 according to BlackFilm:
I will also be in Scary Movie 5. That's being directed by my man Malcolm Lee, who I love from The Best Man. I plan on coming back for the second season of The Newsroom and I have a couple of things in the works. I do plan on being in Expendables 3, which is really popping up really quick. A lot of people are talking about it, but it depends on how '2? does.
That sounds like an Expendables 3 confirmation too, right?
Finally, The Hollywood Reporter confirmes the first super famous people to die in Scary Movie 5. It's obviously a pretty big spoiler for a movie that hasn't started shooting yet, so we'll leave a little room for before dropping the spoiler.
3
2
1
SPOILER ALERT!
Described as "the world's hottest new couple," The Hollywood Reporter says Charlie Sheen and Lindsay Lohan will die in the opening sequence of Scary Movie 5, continuing the tradition of major stars buying it in the pre-credits scene. The film shoots soon aimed at an April 19, 2013 release.