'Seven Psychopaths' Trailer - Colin Farrell Reunites With 'In Bruges' Director Martin McDonagh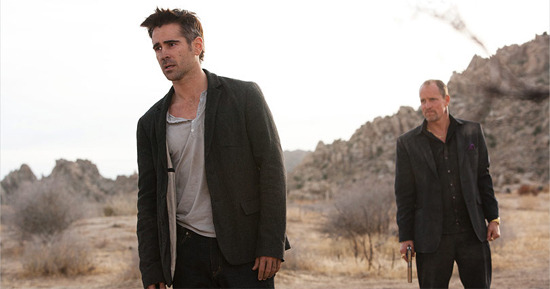 I've made no secret of my disdain for the recent Total Recall remake, but thankfully Colin Farrell's 2012 isn't looking like a total bust. This fall sees him reuniting with his In Bruges director Martin McDonagh for Seven Psychopaths, in which Farrell plays a screenwriter who gets tangled up in a dog-kidnapping scheme gone awry.
Farrell's In Bruges co-star Brendan Gleeson sits out the nuttiness this time around, but Farrell's joined by a host of other interesting talents including Sam Rockwell, Woody Harelson, Abbie Cornish, Olga Kurylenko, Christopher Walken, and Tom Waits. Watch the entertaining first trailer after the jump.
[via The Film Stage]
McDonagh's dealing with a bigger cast and a larger scope here than he did in In Bruges, but that doesn't seem to have blunted his endearingly twisted sense of humor any. And he really brings out the best in Farrell — this looks like another career highlight for the underrated Irish actor. But it's Walken who really steals the show for me, at least in this trailer. His face-off with the armed men is just perfect.
Seven Psychopaths lands in theaters October 12, following a TIFF premiere next month.
Synopsis:
From Oscar-winning writer and director Martin McDonagh comes a star-studded, blood-drenched, black comedy. Marty (Colin Farrell) is a struggling writer who dreams of finishing his screenplay Seven Psychopaths. All he needs is a little focus and inspiration.
Billy (Sam Rockwell) is Marty's best friend, an unemployed actor and part time dog thief, who wants to help Marty by any means necessary.
Hans (Christopher Walken) is Billy's partner in crime. A religious man with a violent past. Charlie is the psychopathetic gangster whose beloved dog, Billy and Hans have just stolen. Charlie's unpredictable, extremely violent and wouldn't think twice about killing anyone or anything associated with the theft. Marty is going to get all the focus and inspiration he needs, just as long as he lives to tell the tale.