'Stage Fright' Trailer: Found Footage Teen Horror Film Set In Drama Department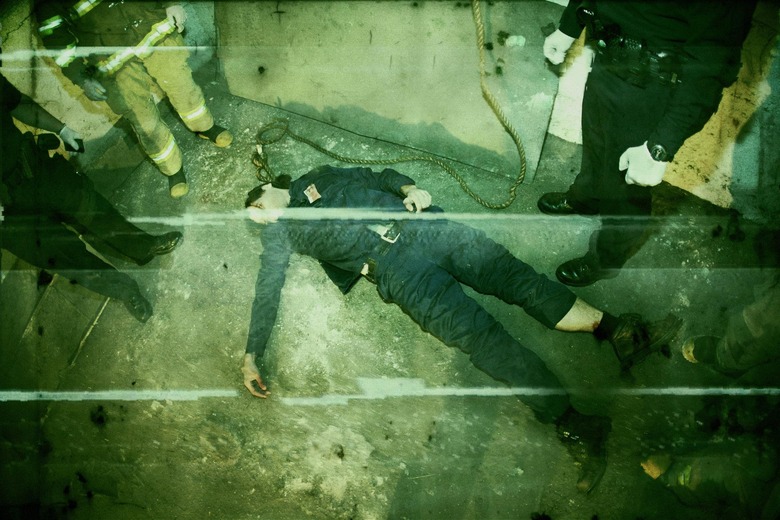 Horror has always been a genre where going meta was met with success. Some recent examples, of course, are found footage movies like The Blair Witch Project or Paranormal Activity as well as the self-referential nature of the Scream and I Know What You Did Last Summer films. The new film, Stage Fright, takes that kind of meta-self-awareness even further. It's a film about found footage that's being turned into a film. Basically a movie, within a movie, within a movie. Directed by Chris Lofing, this independent film is aiming at an October release. Check out the trailer, as well as some stills and two posters, after the jump.
All the below materials first arose on the film's official Facebook page, with a nod to Bloody Disgusting.
The film is about a high school where, in 1983, a young man was accidentally hung while playing the hangman in a play. Twenty-five years later, a similar set of tragedies have befallen the school and someone was there to document it. This movie is about that footage being released. Here's the trailer for Stage Fright.
And here are two posters as well as some stills.
The premise of the film reminds me a bit of the phenomenal novel House of Leaves by Mark Z. Danielewski, which has the same sort of horrific, story within a story structure. Much like that book, the idea of this movie will likely be a bit hard to get your head around and one has to hope that Lofing's direction and screenplay, which he wrote with Travis Cluff, can simultaniously draw you in, keep you engaged and scare you with things we have yet to see in found footage movies. When the above trailer degenerated into a guy with a noose around his neck and a mask over his face, I was a little taken out of it, but hopefully that's just the promotion playing possum.
Follow the film on their Facebook page. Are you intrigued by Stage Fright?